By Andrea P., Auxiliar de Conversación in Madrid 18/19.
While living in Madrid, you'll find yourself surrounded by an extensive and rich culinary history with something for every taste. Madrid, a truly international city, is loaded with fantastic restaurants and unsuspecting bars where you can find great food from all over Spain. And, while Michelin star dining can easily be found, you don't have to break the bank to eat well! Starting with the most iconic dishes, this list will guide you through some must-try plates in Madrid, as well as my favorite spots to enjoy them.
5 Spanish Plates You Should Try
1. Paella
Possibly one of the most well-known Spanish dishes, paella, which originates in Valencia, is something you need to experience at least once during your time in Madrid. There are many different variations of paella available. One popular variety consists of mixed seafood including mussels, clams, prawns, and calamari. However, the base is always the same: rice. This rice can be black or the typical yellowy-orange that is achieved by adding a powdered colorant or saffron. It's not just the meal itself that makes it special. Paella is a process. You have to cook it with care and then, you eat communally, making it a highly social dining experience. Restaurante Costa Blanca is one of my favorite places in Madrid to go for a traditional paella at a very reasonable price.
Where? Restaurant Costa Blanca – Calle de Bravo Murillo, 3 (metro Quevedo)
---
2. Lentejas
Lentils can be found in many cuisines around the world, but the Spanish preparation is especially tasty. Lentils are slow-cooked with chorizo (Spanish sausage), morcilla (blood sausage), and panceta which give them a smoky and rich flavour. This dish is perfect served with some crusty bread and is sure to warm you up on a chilly day. My Spanish boyfriend makes the best lentils I've had, but if I had to choose a restaurant it would be Maltilda Café Cantina.
Where? Maltilda Café Cantina – Calle de Almaden, 15 (metro Estación del Arte)
---
3. Cocido Madrileño
Probably the most representative of the food unique to Madrid. The special thing is how it's served. You eat this dish in three courses, the tres vuelcos. The first course is the rich broth served with noodles. After everyone has finished this, the second course is the potatoes and other vegetables along with the star: the chickpeas. The best is saved for last, during which course the meat is served. Typical to Spanish cuisine, this meal is to be shared with friends and family in a warm and social atmosphere.
Where? Restaurante La Bola – Calle de la Bola, 5 (metro Santo Domingo)
---
4. Cochinillo Asado
Ernest Hemingway loved that while in Madrid. Cochinillo asado, or whole roasted suckling pig, is a meal for which you either go big or go home. What makes this dish so distinctive is the presentation. The whole pig is brought to the table which means juicy and tender meat is waiting for you underneath the crackling skin. Enjoy this dish at one of the oldest restaurants in the world (founded in 1725!), El Sobrino de Botín.
Where? El Sobrino de Botín – Calle de Cuchilleros, 17 (Metro La Latina o Metro Sol)
---
5. Pulpo a la Gallega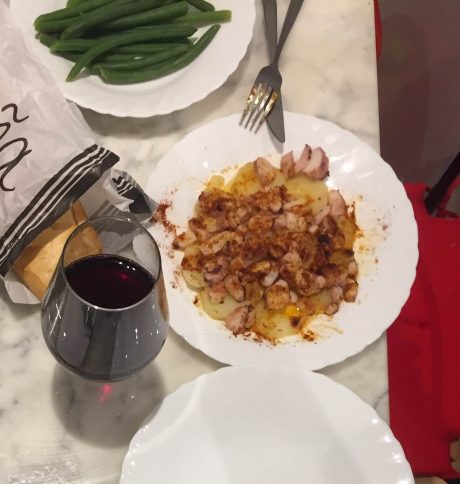 As the name implies, this dish originates in Galicia. However, it is popular all over Spain and Madrid is home to some stellar examples. Pulpo is Spanish for octopus, which is chopped, cooked, and served on top of boiled potato slices. Moreover, they drizzle it with olive oil and sprinkled with paprika. If you've never had octopus, you should give pulpo a la gallega a try. Eating octopus is not very common in the US and it some may be afraid to try it. But if you get over your initial fears, you'll surely enjoy this simple but delicious dish.
Where? Restaurante Nino Ferreira – Calle Eloy Gonzalo, 25 (metro Iglesia)
---
6. Pan con tomate
If you feel underwhelmed by the idea of a Spanish breakfast after being used to bacon and eggs, it's time to give a proper pan con tomate a try. Sure, it's just toasted bread with pureed tomatoes, olive oil, and salt. In its simplicity, it's a wholesome and filling breakfast. Although you can find this all over the city, my local favorite at El Duero rings in at 2 euro with coffee included!
Where? El Duero – Calle Noviciado, (metro Noviciado)
Tapas time!
7. Tortilla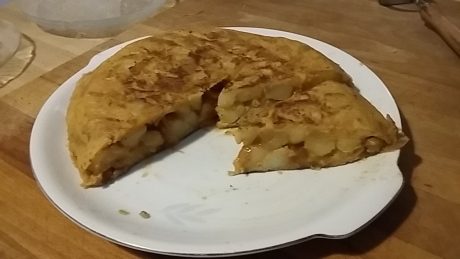 Tortilla is another classic that you can enjoy at any time of the day. It's is so prolific that it's safe to safe that most traditional bars and cafes will have some on hand. The most common recipe includes potatoes, onion, and egg, but modern takes of the dish have emerged all over Spain. At Pez Tortilla, you can try fancy combinations such as parmesan and sun-dried tomato or blue cheese and walnuts.
Where? Pez Tortilla – Calle del Pez, 36 (metro Noviciado) & Calle Cava Baja, 42 (metro La Latina)
---
8. Croquetas
If you were ever looking for the perfect Spanish comfort food, croquetas fit the bill. You fill these deep-fried balls of happiness with bechamel and meat, vegetables, shellfish, or cheese. Completely vegetarian options exist as well, usually in the form of mushrooms. Widely considered to have the best croquetas in Madrid, Casa Julio in the Malasaña neighborhood has drawn tourist, celebrities, and locals alike to their small interior.
Where? Casa Julio – Calle de la Madera, 37 (metro Tribunal or metro Noviciado)
---
9. Bocadillo de Calamares
The Spanish love their bocadillos, or sandwiches. Once again, Spain has found a way to take something as simple as a sandwich and make it extra delicious. Although they are typically filled with serrano ham or tortilla, you can also find bocadillos with fried calamari. You can find these sandwiches all over Madrid. They're great after a late night or even as a snack with a cold beer. Enjoy one of these little marvels at Bar Postas after a busy day of shopping around Sol.
Where? Bar Postas – Calle de Postas, 13 (metro Sol)
---
10. Papas Arrugadas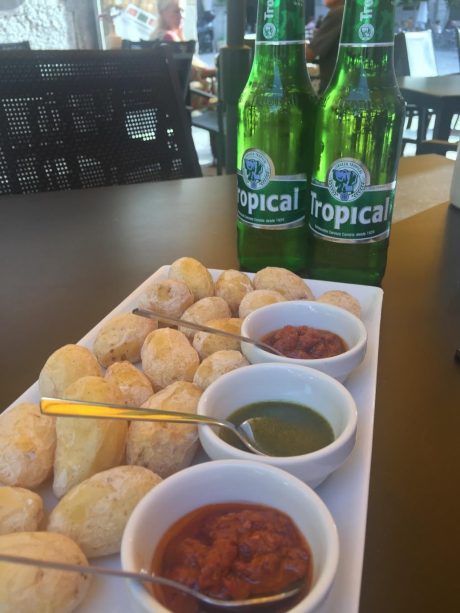 When people think about Spanish food, they often neglect to consider the cuisine of Spain's islands. The Canary Islands have a flavour of their own. One of the traditional, and super delicious, dishes is papas arrugadas, wrinkled potatoes. Baby potatoes are boiled, skin on, in saltwater until it evaporates. They serve the tender, salt-encrusted potatoes with a dipping sauce called mojo. You can enjoy this and other typical Canarian dishes at El Escaldon in La Latina!
Where? El Escaldon – Calle Nuncio, 17 (metro La Latina or metro Tirso de Molina)
Read more about Madrid and our program
– How to find an Apartment in Madrid (short and long term)
– Teaching English Abroad Without Experience: Is it Possible? How?