Teach English in Castilla y León
Schools with ConversaSpain
ConversaSpain offers English native speakers the opportunity to teach English in public schools throughout Castilla y León. This is a unique opportunity to understand Spanish roots and contrasts.
Candidates who want to live and teach English in Spain through ConversaSpain must hold a university/college degree in any subject, or be enrolled, at least, in the second year of your university degree. Auxiliares de Conversación in Castilla y León will get to practice their Spanish while also getting useful skills for their professional but also personal life.
---
Some highlights:
Placements managed by the Comunidad de Castilla y León (Regional Education Authority)

Schools placed anywhere in Castilla y León

14 hours per week (spread over 4 days a week)

Stipend: €800/month

Health coverage included: private insurance (non-EU participants) or EHIC coverage (EU participants) included

Participants are required to hold a university/college degree in any subject or be enrolled, at least, in the second year of your university degree
---
Being Spain's biggest region, you can pretty much have everything at once. While you can experience nature and relax during your long weekends (3 days off a week), you can also visit some of Spain's most well-known landmarks like Segovia's acueducto.
In Salamanca, the city of letters, you can not only appreciate Spanish language and roots, but also enjoy a café con leche in the Plaza Mayor. In León and Burgos, for example, stands two of the most well-known cathedrals in Spain, definitely worth a visit.
Not to mention the oldest archaeological site in Europe, Atapuerca, or biosphere reserves like the Picos de Europa, Los Ancares, Babia, or Valles de Laciana, Omana y Luna.
Start your application process today
Fill in the online application form
Main Benefits of Teaching English in Castilla y León with ConversaSpain
ConversaSpain offers 2 different options to teach English in Castilla y León starting in October/November 2023 or January 2024 until the end of May 2024 (dates TBC). The options and costs are adapted to a range of diverse backgrounds and interests.

– ConversaSpain Support Fee: US$1,195
– ConversaSpain Support Fee & TEFL Certification: US$1,635
The 2 options have important benefits:
Exploring the Community of Castilla y León, the Roots of Spanish Culture
Everyone has heard of Madrid or Barcelona, even Sevilla or Granada, but where all those roots come from is Castilla y León. Some of the oldest and most historic cities are found in this region - being the biggest one.
Valladolid, one of Spain's former capitals
Palencia, beauty in the middle of a great plain
Burgos, nestled on the road to Santiago
Segovia, home to Romans
Soria, la gloria de España
Ávila, surrounded by complete medieval walls
Salamanca, city of letters
Zamora enamora
León, a city with the heart of a lion
Spanish schools await you
Fill in the online application form
Gastronomy in the Community of Castilla y León: Torreznos, morcilla, and some of Spain's best wineries
Castilla y León is also known for its cuisine and wine. Some if its specialties are the botillo in León, the morcilla de Burgos y León, the cochinillo in Segovia, the chuletón in Ávila … there are so many to choose from!
Here are some of the must-try dishes that participants teaching English in Castilla y León might find in the region:
· The garlic soup in Valladolid: it is a type of soup typical of Castilla y León. It contains mainly water or broth, bread (which is usually hard bread left over from previous days), paprika, bay leaf, garlic, olive oil, and poached egg.
· The torreznos from Soria: a strip of bacon, always with its skin fried or sautéed in a frying pan or toasted on a grill. Torreznos are usually crispy and golden brown on the skin side. The winning restaurant for the best torrezno in the world in 2023 has been San Esteban de Gormaz, a village in Soria (Castilla y León).
· The hornazo in Salamanca: a Spanish meat pie eaten in the provinces of Salamanca and Ávila. It is made with flour and yeast and stuffed with pork loin, spicy chorizo, and hard-boiled eggs.
---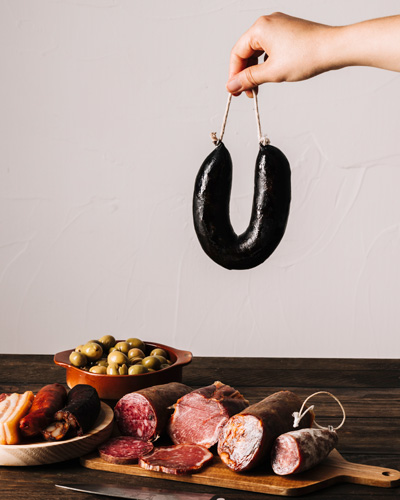 Practical Information for an English Teacher in Castilla y León: Cost of Living and Accommodation
Cost of Living in Castilla y León
Participants who teach in Castilla y León receive €800 per month, which is enough to live in this affordable region. Salaries in Spain are significantly lower than in the United States, Canada, the United Kingdom, or Australia. Living expenses, however, reflect this, and participants should be able to live comfortably in Castilla y León, which has Spain's seventh-lowest cost of living. Here are some examples of the cost of living in Salamanca, one of Spain's most famous and beautiful cities (located in Castilla y León).
· Liter of milk = €0.88
·A dozen eggs = €2.24
·Capuccino = €1.65
·Loaf of fresh white bread = €1.38
·Lunch with friends = €12 (per person)
·Movie tickets = €7
·Gym membership for one month = €32.50
·3-bedroom apartment outside the city center = €592
*Source www.numbeo.com
Finding Accommodation in Castilla y León
Tracking down a place to live in the Community of Castilla y León won't be as daunting as apartment hunting in large urban areas like Madrid, which is often overwhelming.
While searching for lodging, understanding the difference between a room (or habitación) and an apartment (or piso) is vital. We don't recommend renting an entire apartment taking into account the monthly stipend. It's cheaper and socially favorable to share an apartment with other professionals.
Signing a long-lasting convenience contract before visiting the region and the school's area may not be the best idea. Once at their school, participants might notice that some other teachers are keen on sharing a flat. Our recommendation is to:
1. Book temporary accommodation online for the first few days in Castilla y León.
2. Select a few reasonable places for long-lasting convenience before your move, and schedule a few visits.
3. Visit those apartments and check for other opportunities near the school once in Spain. Do not sign a contract until seeing the place!
4. Make a decision and move to your permanent accommodation after starting at school.
Here are some helpful websites to look for a shared accommodation: Vibbo, Pisocompartido, Idealista, Pisos.com and Fotocasa.
One step closer!
Fill in the online application form