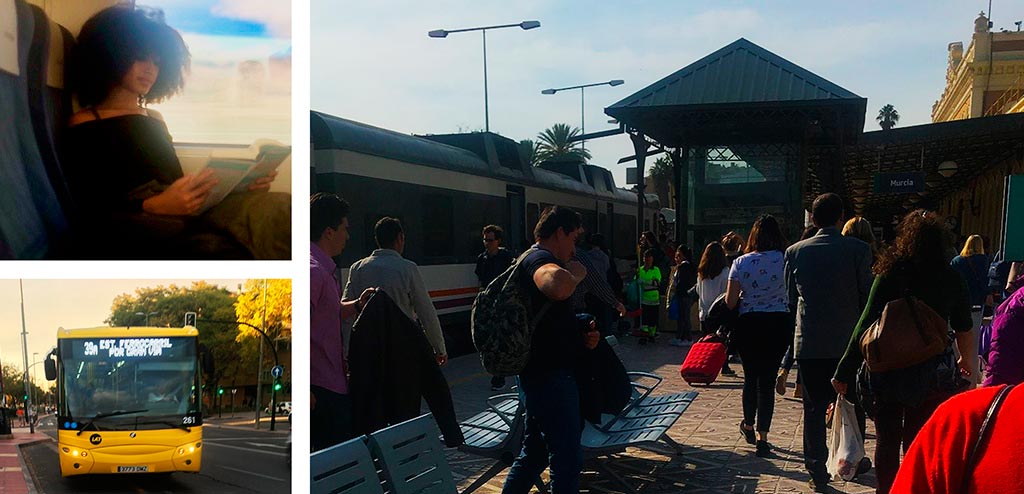 By Danielle E., Auxiliar de Conversación in Murcia 18/19.
Knowing the public transport system is very useful when considering moving to a new place (like Murcia) and choosing which area to live in. If you want to know what it is like moving around using public transport straight from the horse's mouth, I have a series of conversations I have had with people living in different cities and rural towns across the region. They should help you know what transport in Murcia is like and what is feasible for you if you need to commute and don't have your own means of transport.
My personal experience, Centro de Murcia (Barrio del Carmen)
I chose to live in the centre of Murcia, in Barrio del Carmen as I wanted to be as close as possible to the train station as I work in Lorca. I commute by the C-2 train line which runs hourly during the day, this journey takes about an hour. It is always comfortable, there are always seats available and it is on time 99 percent of the time (transport in Murcia seems to be very punctual). A return ticket on this line is €8.85 but you can buy a ticket for the month for €130 and there is also a discount on tickets for each term for students. The train that passes through Murcia, Lorca and Totana also passes through Alcantarilla, Librillla, Alhama de Murcia, La Hoya, Puerto Lumbreras, Almendricos, Pulpί, Jaravίa and Águilas.
When there have been issues on the train (which has only happened to me twice) there was a replacement coach provided. One of these instances was when there were repairs being carried out for two weeks. Another one when I was visiting Alicante (which is very close to Valencia) and there was a problem with the rails. Again several replacement coaches were provided for people heading to different destinations.
The bus
I also use the bus regularly to attend Spanish classes and visit people. There are many buses routes across the city, most of which run every fifteen minutes during the day. One great thing is that there is always a bus stop nearby in the city centre. On some routes, tickets are €1.05 for a single, and on others, a ticket is €1.85 for a single and €2.80 for a return. The buses can be overcrowded at times when people are on their way to and from work or university. In my experience, there is a 50-50 chance of a bus being on time or in the worst case 20 minutes late. Buses are the most popular means of transport in Murcia.
Living in the city centre I would say that having your own transport is not necessary. For a green alternative for short trips across the city centre there are also muybici stations dotted around the city so you can cycle. There is also a tram in the city centre that runs between the city centre and the northeast where the university and shopping centres are.
Other options to travel within or outside of the region include coaches that you can take from the bus station in the city centre, and lift shares from BlaBlaCar, an online carpooling site. The latter would be the cheapest transport option when travelling outside Murcia, but both have been very convenient for me. As an under 25-year-old I have been able to take advantage of a free Alsa Plus membership which gives me a young person's discount on the coach.
Below you can read first-hand information provided by Auxiliares who live in other parts of Murcia.
Emily (Jumilla, 25,500 inhabitants. Famous for its wineries and pears. 70km north of Murcia city)
María (Lorca, 93,000 inhabitants. 70 km southwest of Murcia city)
Francisco (Totana, 31,600 inhabitants. Close to Sierra Espuña mountain range/regional park and 51km southwest of Murcia city)
Isabel (La Unión, 19,000 inhabitants. 5km away from the beach, 57km south of Murcia city and 15km east of Cartagena)
José Luis (Águilas, 35,000 inhabitants. Coastal town 110km south of Murcia city and 76km southwest of Cartagena)
What transport is available?
Emily: In Jumilla, the only transport available is the bus. The cost isn't too bad for a trip, but for everyday use, it is not very reasonable.
María: There is a train to Murcia every hour and a train to Águilas three times a day in winter and six times a day in summer. There are also buses to different towns in the region.
Francisco: You can travel by bus or by train.
Isabel: In La Unión there is a train and a bus. In Cartagena, there is a bus that goes to the other towns and various others that go through Cartagena. The train goes from Cartagena a Los Nietos.
José Luis: To travel about Águilas there are buses and there are also buses to Murcia. There is also a train.
What is the cost?
Emily: A round trip between Jumilla-Murcia is €10.
María: About €5 single and €9 for a return to Murcia by train, and €7 for a single and €10 for a return to Cartagena by bus.
Francisco: The cost depends on whether you travel by bus or train. It's usually between €3 and €7.
Isabel: The train costs €1.45 and the bus €1.25.
José Luis: A single ticket to Murcia on the bus is €9 and a return is €12.
Where do you travel to regularly?
Emily: When I travel, I go to Murcia or Alicante!
María: Murcia
Francisco: Murcia and Lorca
Isabel: I travel from La Unión to Cartagena.
José Luis: I travel from Águilas to the center of Murcia.
What's your daily commute like?
Emily: I live in Jumilla, so my daily commute is walking!
María: I live where I work.
Francisco: I don´t use public transport daily. When I travel by public transport it's good but improbable. On the train there are always seats available, during certain hours there are more people, but there are always seats. On the bus, it depends on the time and the destination but there are almost always seats.
Isabel: My daily commute is fast and very punctual. Normally there is a lot of space to sit down.
José Luis: Comfortable, most of the time there is room.
How punctual is public transport?
Emily: The buses are usually 5 minutes late, typical Spain! But I haven't had any problems or any notable experiences with my town's transportation!
María: The train is more punctual than the bus, except when there are repairs being carried out on the rails. The punctuality of the bus depends on traffic and the roads.
Francisco: It is almost always on time or has a delay of ten minutes for the most.
José Luis: I don't know what it's like travelling inside of Águilas as I don't use it, but thankfully between Águilas and Murcia the bus is very punctual.
What is the timetable like?
Emily: There's a bus every hour to Murcia and the others to Valencia and Alicante are less frequent.
María: The timetable is alright
Francisco: It depends on the transport you use. The train runs every hour between 7am and 10am.
Isabel: The timetable is very good, and the train passes every 30 minutes.
José Luis: There are four buses between 7pm and 6:30pm.
What is the experience on the bus/train? Have you had any notable experiences on any of your trips?
Emily: I haven't had any problems or any notable experiences with my town's transportation!
María: My experiences on public transport have been good. Once one of the engines in a train burned and we had to wait like two hours to be rescued by another train.
Francisco: No normally the journeys are calm.
Is having your own transport necessary where you live?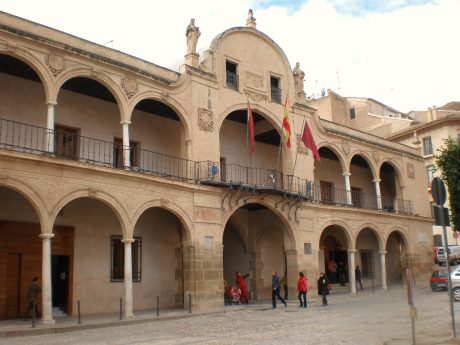 Emily: I got my Spanish license, but honestly if you work here in the town you don't need a car, everyone goes walking! But if I want to go to Murcia or to the beach or anywhere else then it's better if you have your own means of transportation!
María: Definitely, yes
Francisco: Perhaps you may need your own transport as there is no public transport to travel inside the town. Although without transport, you can go from one side of town to the other without problem.
Isabel: It is not necessary as La Unión is a small place and you can just walk. To go to Cartagena, you would need to use some type of transport. I don't think you would need your own transport in Cartagena either.
José Luis: For me, it isn't but for some people it is.
If you have lived in other areas of Spain, how does it compare?
Emily: I've lived in Jumilla for four years, I haven't lived anywhere else!!
María: I have lived in La Union, where we depend on Cartagena for absolutely everything. There are regular buses to Cartagena every 30 minutes.
Francisco: I have lived in Murcia all my life.
Isabel: I have only ever lived in this region.
José Luis: I spent a short time in León, and it wasn't very different.
Conclusion
There you have some insight as to what public transport is like in different parts of the region. Obviously, there are many more towns and much more information you can find.
For more information on the buses, you can look at the Latbus and Tmurcia websites, for information on coaches you can look at the Alsa website, for trains look for the Renfe website.