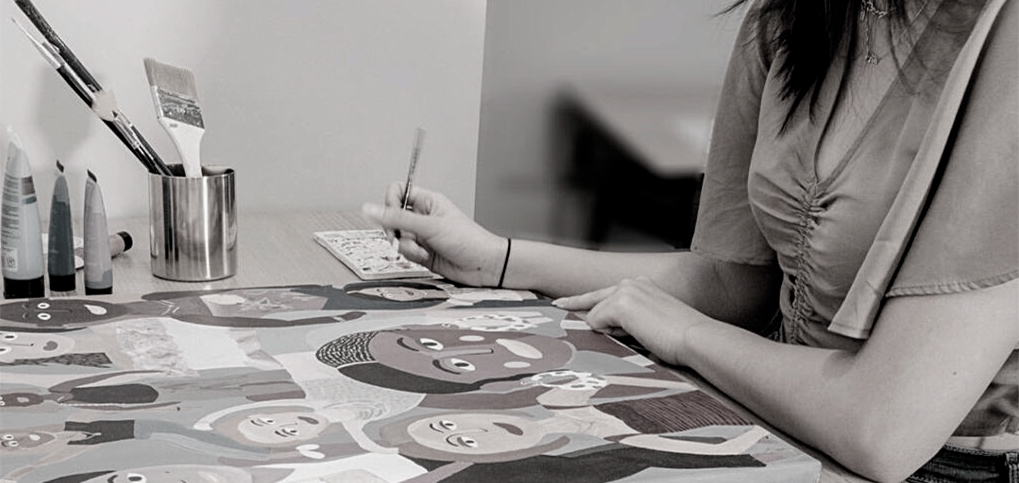 Online Sketch Gallery by Bea Batungbacal
Hi! My name is Bea Batungbacal and I'm from the Philippines. I love to paint and create art, and I seek inspiration anywhere I can find it. I love being able to add my own twist and style to my environment and the things around me. My goal when painting is to provide others with another perspective, to spark joy, and to make them notice the intricacies of things that they may otherwise not have paid much attention to. In this Gallery, you will see what a first year experience as an auxiliar in Madrid is like through my drawings.
SOL
ACRYLIC ON CANVAS | 12×16 inches | Unframed
I arrived in Madrid in October, and was so excited for this new experience as an Auxiliar. I felt free and independent and was looking forward to getting out of my comfort zone after being cooped up for so long in the pandemic. However many times, I also felt lost and alone and overwhelmed. And so, during my first few weeks in the city, I would often visit Puerta del Sol because it was always filled with lots of people and noise. It brought me comfort to see Madrilleños and tourists out and about, and I had high hopes that I would also feel as comfortable in the city soon.
PLAZA MAYOR
ACRYLIC ON CANVAS | 12×16 inches | Unframed
Close to Puerta del Sol is another famous plaza called Plaza Mayor (English: Town Square). It was first built during the reign of Philip III in 1617, whose statue you can see in the center. It has been the scene of plenty of historical events in the past. Today, Plaza Mayor is surrounded by many restaurants and small stores. It hosts bullfights, soccer games, Christmas markets, and other festivities for everyone to enjoy.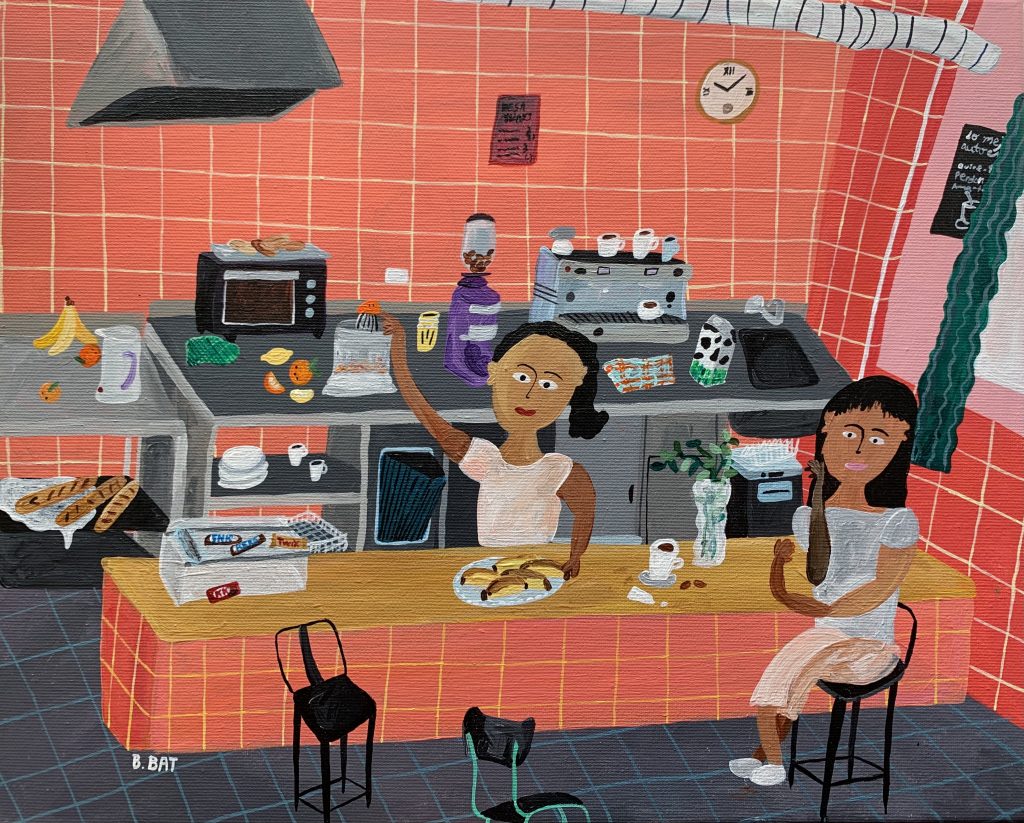 CAFÉ CON PEPI
ACRYLIC ON CANVAS | 14×18 inches | Unframed
My school placement is in El Escorial, which is a little bit outside the Madrid center. It may not be the biggest town, but it is very calm, peaceful, and serves as a comfy home for a close-knit community. My school there, IES El Escorial, serves students from the first of ESO up until Bachillerato.
I feel honored to be able to work this environment, alongside passionate teachers who inspire me everyday. I painted this after my very first day in the school, where already I was made welcome by the entire staff (and the best napolitanas from our cafeteria).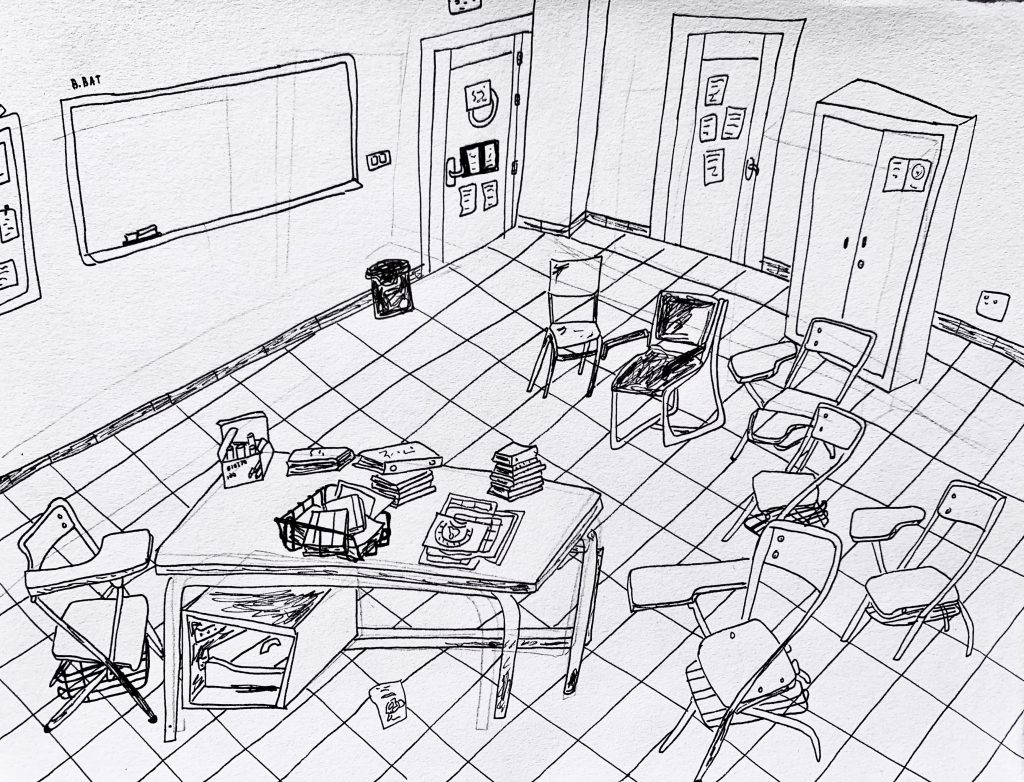 ROOOM 218
PEN ON PAPER
I have really enjoyed watching the students grow in both their academics and personal development. When they act with more confidence and kindness, I feel grateful to have been able to witness and contribute to their growth. Creating presentations and projects for them are very fulfilling especially when the class seems interested and eager to participate. I've always wanted to improve the education system and structure, and I feel like I've somehow been able to do that.
Additionally, another highlight would definitely have to be meeting my fellow teachers and co-auxilliares within the school. I truly believe that I was able to create lifelong friends and connections.
LA FAMILIA
ACRYLIC ON CANVAS | 14×16 inches | Unframed
A friend of mine had commissioned me to make a painting of him and his friends. He told me all about the people he met during his first year as an Auxiliar, and how the strong bonds he formed with them was a big factor on why he decided to renew another year.
Personally, one of the things I love about the program and living in a foreign city is definitely the people that you meet. I've connected with humans from all walks of life and learned so many different things from each of them. Many have turned into true friends and I will always treasure the memories I was able to create with them.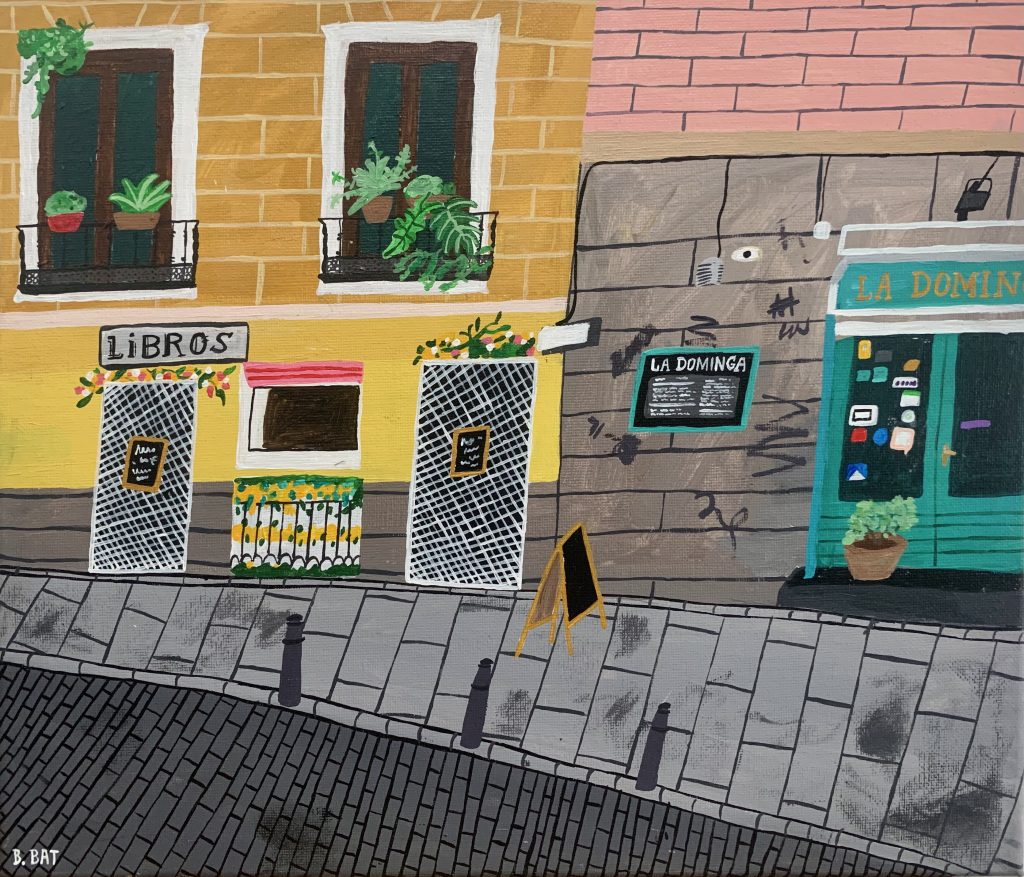 MALASAÑA
ACRYLIC ON CANVAS | 12×14 inches | Unframed
Another very cool thing about living in Madrid for an entire school year is that you really have a lot of time to explore the city and all its little side streets. I painted this piece of Malasaña (back in 2019 actually), which is a lively and young area filled with local coffee shops, bakeries, bars, art pop-ups, and vintage clothing stores.
Do you want to check the full set of drawings and pantings that Bea has been doing in Spain? Download this and see the paintings that are on sale in the following link. Don't miss this set of artwork!
*For inquiries, commissions, or collaborations, send an email to bbatpaints@gmail.com or DM her on Instagram at @b.batpaints! Some of her art has already been sold, don't miss your chance!