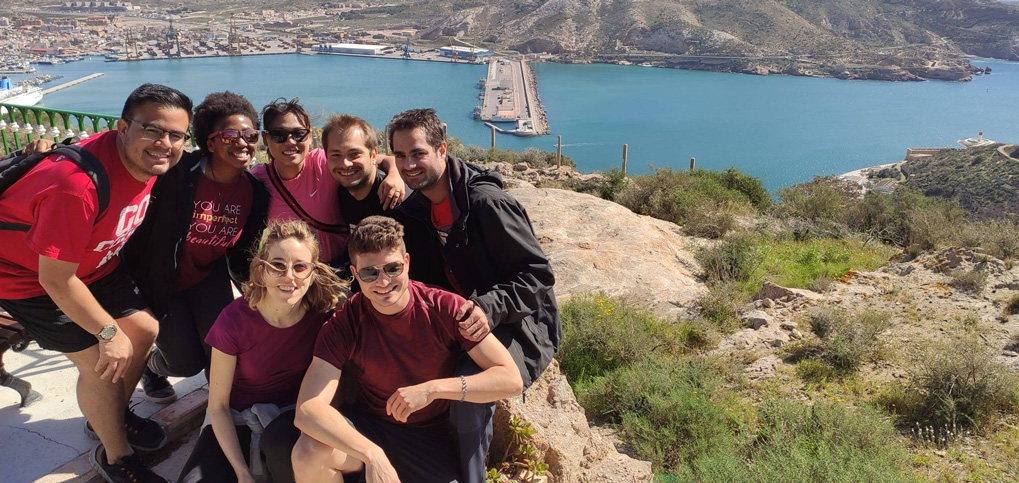 By Kiersten B., Auxiliar de Conversación in Murcia 19/20.
Is it just teaching or is it something different? I chose to be an Auxiliar de Conversación in Murcia with ConversaSpain for many reasons, but one primary reason was the allure. I had worked in the United States, as well as in Panama as a teacher, but something magical happened when I heard about teaching in Spain as an Auxiliar de Conversación.
Before my arrival, I was very curious about what my day to day tasks would be. I wondered how different my life would be, being in a new country with new systems and social standards. Of course, I received a lot of information about how to prepare for my arrival, about the region and the schools. But you just can't put everything into a welcome packet. So here is my attempt to share my day to day life as an Auxiliar de Conversación in Murcia, Spain.
My Routine as an Auxiliar de Conversación in Murcia
Walking to School
I was fortunate to only have been assigned one school. Many Auxiliares de Conversación in Murcia have two schools, which means some days you will be at one school and other days you will be at the other school.
I start my day around 7:30 a.m. The schools in Spain don't begin until 9 a.m., unlike the 8 a.m. schedule in the United States. This is great, because I can sleep in a little more in the mornings. Now, getting to school can be rather easy or quite an adventure. For me, it is easy. I live about a 25 minute walking distance from the school, which I happily prefer, compared to driving in a car for 45 minutes to an hour in California where I am from. Plus it's an easy way to get exercise every day. As I walk, the city starts to wake up.
Sun Most of the Time
In Spain, we experience all of the seasons: summer, autumn, winter, and spring. So throughout the school year, my walk to school would look slightly different. In October, I would walk to school with a light jacket and as winter came, I would bundle up with a few layers and winter coat. Luckily, in the Murcia Region, the sun is shining 90% of the time, so even though the atmosphere might be cold, the sun would always make the walk more enjoyable.
During my walk, I often pass many other students and parents walking to school, because there aren't any local school buses in my city. Speaking of buses, many times other auxiliares rely on the buses to get them to and from school; however, the buses can be a bit unreliable. For auxiliares that live further from their schools, they often can get a ride from a fellow teacher. When I arrive at school, I am usually greeted with "Hello teacher" smiles and the occasional hugs.
My Role at the School
The role of an Auxiliar de Conversación in Murcia is quite memorable. Many times, as an Auxiliar de Conversación, I am not only helping with English lessons, but I am also giving a hand in science and art classes. As I am with primary school, I collaborate with the same students every week, but in different classes each day.
My role in the classroom is both passive and active. Sometimes I am giving presentations about my country; other times, I gather with small groups and practice conversation. Most of the time, I support the teachers in the lesson they are giving.
School Days End at 2 p.m.
At 2 p.m., my morning is done and I head out the door with the students. I wave good bye to the children and retun home under the warm sun. For most Auxiliares de Conversación, the end of the school day could be siesta time, as most of the shops in the city are closed for the next 3 hours.
In the evening, around 5 p.m., I would be heading back out to tutor or give a hand at an academy. Around 2 p.m. many people in Spain consider it lunch time. During my second month, at around 2 p.m., I went with my fellow teachers and had the famous Spanish Paella for lunch by around 2:30 p.m.
How Is my Free Time as an Auxiliar de Conversación in Murcia?
The Evenings
Restaurants and shops re-open at around 5 p.m. So, the city is complete awake by 7 p.m. and that's when many people are out. Walking though the downtown or central area, I can either do my grocery shopping at the local supermarket or I can enjoy some delicious tapas or any other local Spanish dishes.
Often times, it's a great time to meet other Auxiliares de Conversación in Murcia for tapas, wine and beer. There are often different language events happening around the city, which is a great chance to make new friends, and experience the local culture. With many of my evenings open, I've often met with other teachers from the school to practice my Spanish, talk about the lessons and learn more about Spanish culture.
Leisure Time
After tutoring and sometimes before dinner, which usually happens around 9 p.m., I use that time to make new friends or try new hobbies… I've tried different dance classes, played paddle ball, taken Spanish lessons and simply enjoyed night strolls in the very safe and beautiful city. Other times, I enjoy spending time with my roommates, trying my take on Spanish dishes and relaxing at home. There is never a dull moment.
In conclusion, Spain is a small country, but every region is different, so of course, everyone's day to day will differ depending on their region. Along with this, most Auxiliares de Conversación have a schedule from 9 a.m. to 2 p.m., but occasionally, others teach during the evening.
One thing I am grateful for is that my schedule had changed dramatically from living in the States. My day to day life is a lot calmer than before. Although there have been times of confusion, getting lost and getting acclimated to a new system, all and all my day to day is less stressful than my life in the States. I am teaching less hours, but still have money to support myself. I am constantly surrounded by a new community of international friends. And every day, it seems like I am learning something and embedding myself deeper into the rich Spanish culture.