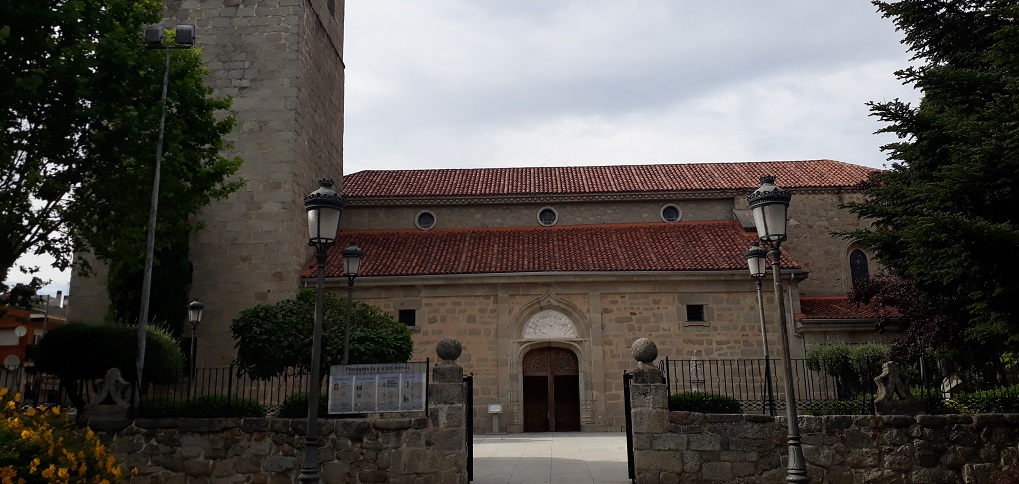 By Dinah E., Auxiliar de Conversación in Madrid 2019/2020-2020/2021.
Living in a Pueblo of Madrid
Most of the auxiliares choose to live in the city, where you can experience the busy streets of Madrid with a lot of people walking in and out of the shops, eating tapas and paella or simply looking at the views. However, I chose to live in a small village or pueblo called Galapagar, in the outskirts of Madrid.
I would have wanted to do live in Madrid city centre too, but my school placement is 45 minutes to 1 hour away from the city, and I hate waking up early to catch the bus or end up at the director's office for tardiness. With careful analysis of Google Maps, I discovered this flat situated in a pueblo that is only 10 minutes away from the school. It may not be as charming as the other pueblos, but the views from a distance are fantastic!
Galapagar, my Pueblo in Madrid
Galapagar is a town and a municipality northwest of the autonomous Community of Madrid. It got its name from the Spanish word Galápagos which means saddle that closely resembles the appearance of turtles believed to have lived in a lake nearby. Galapagar is 15 minutes away from the Royal Monastery of San Lorenzo de El Escorial. It has a population of more than 33,000 people.
Going to Madrid from my pueblo
Many interurban bus lines would take you from Moncloa to Galapagar (A-B3 zone), and vice versa with a one-way fare of 3.60. You can purchase a public transport card for a 10-trip journey at 23 euros from the Tobacconist shops or the Personal Public Transport card (PTT), otherwise known as the abono monthly card that gives you access to the bus and metro. Its price depends on your age and the zone. In my case, I didn't opt for this because I don't go to Madrid every day.
How is my Life in the Pueblo?
I live in a flat near the cemetery with a magnificent view of the mountains that can look pretty in winter. It is in an area close to shops and the bus stop for people going to Madrid. I would say that everything in this quiet town is within reach. I can run to the stores to buy the things that I forgot to buy without worrying about getting there just in time before it closes.
My dialy routine while living in a pueblo
My daily routine in this town is walking to the bus stop at Cruz Roja at 8:20 am, waiting for the bus to Colmenarejo, and walking back to my flat from the bus stop at 2:20 pm. Sometimes, I drop by a grocery store to buy some stuff.
On most days, I have private classes online 'till 6:30 pm except on Thursdays where I have my physiotherapy appointment for computer-related neck and upper back pain. On weekends, I shop for the food that I need for the following week and, on Sundays, I go to Madrid. These walks led me to discover how townsfolk live their lives in this place.
Aside from a routine similar to mine, I see townsfolk waiting for oven-baked fresh bread at Horno Caballero along with Plaza del Cano early in the morning. The store sells a variety of bread such as pan de pueblo, mini hornazos de cinta de lomo con chorizo, empanadas de atún caseras, empanadillas de atún and a lot more. I think these special pieces of bread are only available by order, since I noticed the shop doesn't open in the afternoons. I also see working people going to their offices and parents taking their kids to schools by car, bus, and on foot.

Beautiful historial monuments
At the town square, you would find an old rectangular-shaped church built in the 16th century by the great Duke Diego Hurtado de Mendoza, the Nuestra Señora de Asunción. In front of the church is the monument of Jacinto Benavente, a distinguished playwright and Nobel Prize winner. He wanted to retire and write some of his plays in this town. The 3 meters sculpture is made of bronze, granite, and Colmenar stone by Luis Antonio Sanguino. He won the public competition for the perfect artist who sculpted the monument in honor of Jacinto Benavente. The sculpture shows him writing his reflections in his diary in one hand, inscriptions of his works, ¨La malquerida¨, among many others, and dogs that represented his work, ¨Los cachorros¨. Locals frequent the town square as restaurants, bars, banks, shops, and the casa de mayor surrounds the area.
The Festivities of my Pueblo
The town celebrates some important festivities that everyone looks forward to each year.
People gather at the town square for the processions on Palm Sunday, Holy Wednesday, Holy Thursday, and Good Friday.
Romeria
A pilgrimage is held at the 2nd week of May in honor of La Virgen de Nuestra Señora de los Desamparados. The pilgrims dressed up in their traditional customs begin at the gates of the Nuestra Señora de Asunción church and end at Ermita del Cerrillo. The offering of flowers and a mass follow after.
Fiestas Patronales
On September 14th, Galapagar celebrates the day of their patron saint, Santísimo Cristo de las Mercedes. The entire population actively participates in different kinds of activities and events from early August until mid-September.
Homenaje a la Bandera
In the morning of October 12th, townsfolk pay a special tribute to the National flag of Spain in the Plaza de la Constitución as well as the Civil Guard Corps, coinciding with the feast of its patron saint, the Virgen del Pilar.

Among the festivities, If I'm not mistaken, I had a glimpse of the last part of the Fiestas Patronales. I was still in my first week here when I decided to go around the town. I saw people dressed up in their traditional customs who paraded around the square and danced as they reached the center.

Christmas in Galapagar
Apart from the yearly activities, Galapagar has other seasonal activities like the ice-skating rink for kids in December 2019. There was also a Christmas bazaar that sold a variety of items like Christmas decorations and food. In the first week of April 2020, a group of business owners organized a bazaar that sold items from their stores with huge discounts. From time to time, they come up with activities that would spice up the town.

If you are a fashionista, shopping for clothes like the ones you see in Zara or Mango is not an option here. The best thing to do is to take some walks where you can explore the countryside. I had the pleasure of doing this right after the lockdown last year. I began appreciating the fresh air that I inhale every day, the different farm animals that I see, the chirping of the birds, and the wide-open spaces.

My pueblo is more of a residential area that you can go home to and rest after a busy day at work in Madrid. So, if you end up in similar pueblos that seemed to be far from your friends, don't fret! It's one way for you to mingle with the Spaniards as well as experience their culture.