By ConversaSpain
If you are here, it means that a part of you is wondering what it would be like to teach English in Spain, and you are in the right place! Living abroad is one of those "now or never" kind of experiences, and, with everything we have lived these past years, there is no time to have second thoughts: jump into this adventure and read all about ConversaSpain Application Process!
WHY CONVERSASPAIN?
We know the process might seem a little hard: How do I find a place to teach? What about documentation? Will I be able to make enough to pay for rent and groceries? How will I meet new people? We understand, we have been there, and living abroad always comes with challenges. But those are there for us to overcome them, and we want to help you do so!
By coming to Spain, you will be able to obtain new skills, to understand a different culture… it will be an amazing professional and personal experience, and we will be here through it all. With ConversaSpain, you will be able to not only come and teach English in Spain but feel safe, in good hands, and knowing that, if you follow all the steps the Welcome Team gives you, there is no reason why you should not get here on time.
CONVERSASPAIN APPLICATION PROCESS
Does this sound like something you would like to do? If so, here is a step-by-step guideline on how to apply to teach English in Spain with ConversaSpain's application process.
STEP 1 IN OUR APPLICATION PROCESS: GO TO OUR WEBSITE
If you want to teach English in Spain with ConversaSpain, all you have to do is follow these easy steps. First, you have to go to our website: www.conversaspain.com.
STEP 2: SCROLL DOWN UNTIL YOU SEE OUR ONLINE APPLICATION FORM BANNER
Once you are on our home page, you have to scroll down until you see our yellow and red banner that says: Apply Now. When you get there, click on it.
STEP 3 TO TEACH ENGLISH IN SPAIN: CLICK ON THE LINK AND COMPLETE OUR ONLINE APPLICATION FORM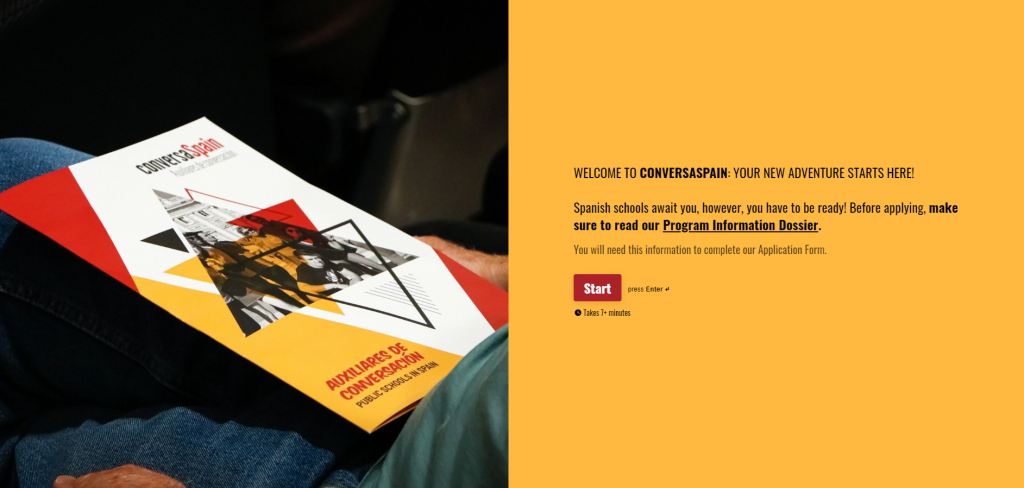 By clicking on the link, you will get to our Online Application Form. The process from there is very simple: complete it and, if you are shortlisted and the HR Team considers your candidacy, we will get to e-meet you at an online interview.
STEP 4: IF YOU ARE A SUITABLE CANDIDATE, WE WILL MEET YOU AT AN ONLINE INTERVIEW
In this interview, we will get to know you better and clarify any questions you may have about the program.
STEP 5: IF SUCCESSFUL AT OUR INTERVIEW YOU WILL GET TO JOIN OUR PROGRAM
Successful candidates will be assigned to a region and contacted by the Welcome Team of that specific region. From there, and as long as they accept the offer and join, they will be part of the program and will receive all the necessary information and documentation from their Welcome Team.
STEP 6: ¡HOLA, ESPAÑA!
If everything goes well, you follow the application process, go through an interview, and get accepted, all you will have to do is accept and join the program. And, of course, participate!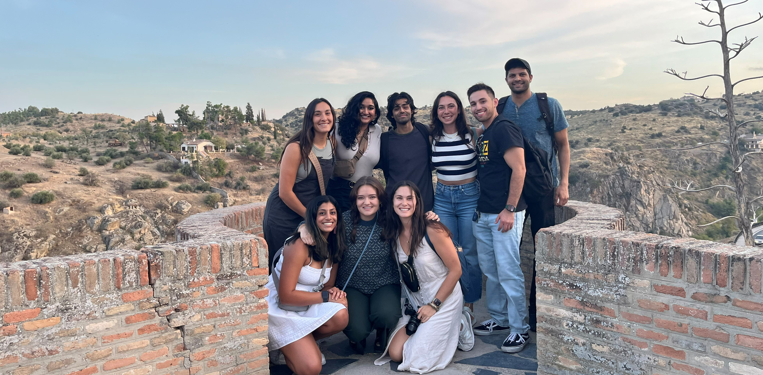 Spanish schools await you. You will become part of so many students' lives while Spain will become part of you. Forever. Can't wait? Go ahead and start with Step 1. We cannot wait to have you here!