By  Charlie W., Auxiliar de Conversación in Murcia 19/20.
Since I moved to Spain to be part of the Auxiliar de Conversación program, I have been travelling quite frequently. I attempt to travel somewhere in Spain every two weeks or so, depending on time and money. Speaking of money, this is something that is an integral element if you have a desire to travel while teaching in Spain. In this article, I'm going to describe some of my top tips for travelling in Spain on a budget. Many people think you need to spend exorbitant amounts of money in order to have the best holiday or experience, but I am here to tell you that that is not the case. Now, let's dive in:
1. Adjust Your Expectations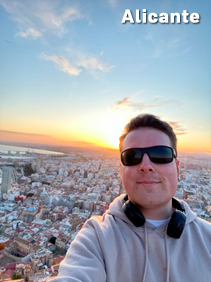 This might be the most important thing to realise before you even begin to plan a holiday or trip. You can't spend what you don't have, so if you aren't the heir to a family fortune, really ponder what it is that you want out of your travels. To me, travelling is all about experiencing culture, food, art, and just the lifestyle of wherever it is I happen to be. All of the aforementioned things can be discovered for free or for very cheap. You don't need to be a millionaire to have tapas in Granada or to visit the Museo del Prado in Madrid.
However, if you desire to stay in a five-star hotel and eat at Michelin-star restaurants every night, then naturally you will require a robust bank account. I wanted to bring up my experience in Alicante, for instance. It is a small town that isn't very well advertised, but I have spent some time there and I absolutely loved it. You just have to open your mind to new experiences. It all depends on what you want to gain from the experience but, to sum up this point into one sentence, the BEST experiences in Spain are found by wandering the streets, not from the inside of a hotel room.
2. Learn It and Learn It Fast: Hostels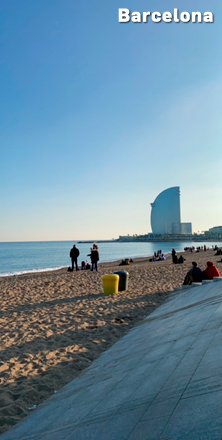 As you may have noticed, I am not a fan of hotels. I am, however, a huge fan of hostels, especially in Spain. A hostel is similar to a hotel but you have the option of sharing rooms with strangers. It sounds shady but it's kind of like summer camp, except you're all adults. The most people I have shared a room with is 12 – which was in Barcelona -, but normally if you're in a smaller city or town in Spain, many hostel rooms are between six and eight people.
Hostels are a lot cheaper than staying in a hotel room, however, you do have to sacrifice your privacy for the cheaper cost. I think one of the most attractive parts of hostels is that they often organise daily activities or events like bar hopping, dance class, cooking class and many other fun activities. If you're a solo traveller and want to make some new friends in a foreign country, hostels are for you.
3. Venture Outside Your Comfort Zone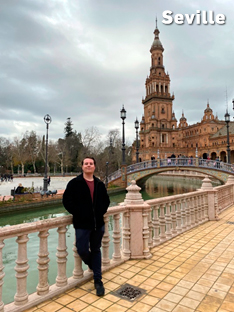 If you're used to just partying and drinking every single night on holiday, I would suggest that you find a way to tone that especially if you're on a tight budget. To me, travelling is about museums, art galleries, parks, historical buildings, hiking, and general sightseeing. Most of the aforementioned activities are free or generally inexpensive.
It's important to feel the energy of a new city and how the locals live. I was in Seville for a weekend not long ago and I spent very little money because I just tried to enjoy what the city has to offer without going overboard.
Seville is pretty cheap anyway, but I strived to only spend money on food and other necessities – even still, I loved the city. Travelling on a budget is all about finding ways to cut corners and save money where you can, which in turn means you can't live how you normally do. Explore a new side of a city… and of yourself!
4. Food, Glorious Food
One of the first things I think about when I travel is where the nearest supermarket is and where the nearest restaurants are. For food, you generally have two options when you are travelling. If you are staying in a hostel, which most travellers are inclined to do, you usually get either breakfast or dinner in your hostel for free or for a small fee. However, you have to factor in that you'll need to spend money on whatever meals aren't provided by the hostel. In addition, if you're staying somewhere for an extended period, that will all add up. The other option you have, particularly if you're travelling in a group, is to rent an Airbnb or another accommodation service.
I would recommend finding somewhere with a kitchen because it will be a lot cheaper to cook your meals than to eat out for every single meal. One problem with this is that, obviously, if you're travelling, you will most likely be out and about and the kitchen basically falls into an abyss. I would say that if you are staying somewhere for more than two weeks, it is definitely recommended to start cooking your food because getting tapas every night – which may seem cheap – will really put a dent in your bank account.
5. Planes, Trains and Automobiles
My last and, perhaps, most pertinent piece of advice is to think very carefully about how you intend to travel around Spain. If you're wanting to fly from place to place, it's going to cost a pretty penny if you have a lot of luggage. If you're travelling light and can take a carry-on bag, then the flights themselves will be very cheap. Most people who travel around Spain use trains and buses, of which there are many, but depending on where you want to go, these can become costly. In Murcia, you can get a bus or a train to many major cities in Spain (Granada, Valencia, Malaga, etc.) for a relatively cheap price.
However, if you're wanting to travel from Murcia to Bilbao, for instance, it won't be cheap. Below, I am going to list some travel apps and websites that I have utilised quite frequently since moving to Spain and I would suggest you take advantage of them too.
Skyscanner (flying):
This is an app/ website that gives you many different options for flying, tells you the cheapest day to fly and directs you to many other third-party travel sites that keep the price of the ticket quite cheap. I use Skyscanner for every flight I book.
Bus Bud (bus/ train):
This is a great site, although somewhat outdate, that provides cheap bus travel options. I personally find the site to be a tad confusing but I have used it before without any hassle.
Omio (bus/ train):
This site combines train and bus travel and it also works all across Europe. I have found that Omio is often more expensive than other sites for exactly the same tickets, I don't know why that is but Omio is a very popular site that I highly recommend.
Trainline (bus/ train):
This is the same as Omio but it is often cheaper. There are usually fewer options with this site, but I have used it many times.
Moovit (regional transportation):
This is for regional travel and it works all across Spain. I use this app every day to check the buses, trams, or trains in Murcia. It's perfect if you are struggling with regional buses in a small town because you don't need to ask anyone about the bus, you can see where the stops are and when the next bus is: all within this app.
So… we have concluded this post: sad, I know. I hope that you have found it informative and somewhat educational.
Spain is an amazing country and, honestly, if you just think with your head instead of your heart, you can save money and have an incredible experience while doing so.