By Andrew H., Auxiliar de Conversación in Murcia 19/20.
Packing list for the School
When packing for Spain my advice would be to bring lots of pencils and markers for the classroom whiteboards. If you like art and you are up for helping the school with Halloween and Christmas decorations.
Firstly, I made a drawing for Christmas. During a week in Christmas, at home after school, I worked on a drawing using a huge sheet of paper from the teacher's office and whiteboard markers. I drew the palace of Madrid to complement the Christmas themed elements.
I drew three of my students as princesses using colouring pencils. Blue markers were used for the winter skyline and colouring pencils were used for the yellow cumulus clouds and the moon. I used my love of the Spanish Liga de fútbol to draw one of my most frequent students in Atlético de Madrid's jersey.
Packing tips for the Weather
Contrary to popular belief, it does indeed get very chilly in the south of Spain from October to February so unlike I did. You should make absolutely sure to pack as many warm sweaters, or jumpers as you can on this journey.
When I arrived in Murcia city the sweltering heat was almost something out of pure fiction. I laughed at all the pairs of jeans I had packed. I decided to go to Spanish class in shorts and shoes without socks. Anything to reduce the weight of my clothing. A month later, I would be wearing those jeans every day as winter rolled around. My shorts disappeared back into my suitcase.
Unlike winter back home in Ireland though, the skies are clear, rarely does a single cloud abound and the sun shines down on you brightening up each day. Rain has accrued for only nine days in three and a half months, which is most pleasant indeed.
There's only so much you can pack into suitcases without burdening yourself with too much luggage. I went shopping in Cartagena in Spain and bought myself five to six stylish sweaters for school.
Buy some things when you are in the country
I bought a nice wool knitted sweater. An American college cotton jacket and my favorite one is a university of Sevilla sweater. Thus, my advice would be to buy some things when you are in the country itself rather than packing the world into your bags beforehand.
When my parents come over to Spain in February, I am going to give them some possessions to take back with them. Of course, you are going to end up with more belongings than when you arrived, especially if you visit places like Granada, Seville and Madrid.
Be sure to ask some visiting relatives for help and perhaps purchase an extra suitcase if you go a bit crazy with your new Spanish collection.
Packing list for my passion
Since design and drawing are a big part of my life, I brought my sketchbooks to show the children when introducing myself to each class in the first week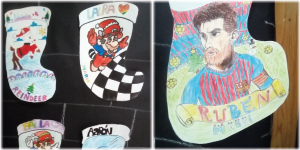 It immediately communicated a lot about myself and my experiences, and was a wise choice to pack so many pens and pencils for teaching and illustrating my ideas. During Halloween, I drew a lot of images based on the kids' favorite characters and cartoons. This was also another great way to celebrate Christmas with the kids. They love the movie Frozen and Frozen 2 was just released in theatres. When the teacher asked me to draw characters from the film, they were obsessed with my drawings of the heroine Elsa.
I decided to make some based on video game characters, such as Sonic the Hedgehog and Mario. In addition, in Spain, FC Barcelona is very popular. With Spanish football being televised in so many cafes, bars, and restaurants, it is Spain's most prominent sport.
Endless resources for the whole year
Keeping this in mind, I drew Leo Messi for the last stocking. The teacher photocopied them and distributed them in the meantime. I saw these finished later and was blown away by the students' enthusiasm and their talent. They were familiar with Barcelona's football stadium and the characters colour schemes. Packing extra pencils, different kinds of pens and many whiteboard markers are useful for so many different aspects of class lessons and drawings for activities with the class in the meantime.

There are so many magnificent buildings, cathedrals, palaces and overall wonderful architecture across Murcia, Cartagena, Granada, and Seville so I made sure to pack my best quality sketchbooks from Europe and many different types of pens and pencils to illustrate my favorites.
Meeting people while drawing
The first drawing I worked on when arriving to Spain was the town hall in Cartagena. It was warmer and easier to draw for hours outside without battling the cold. Also, it was an interesting experience as I met a lot of different people from the city of Cartagena when drawing. Spanish people, German people, Dutch people, and many from France. It was interesting! I had interactions with everyone and I trying to speak to them due to their multiple languages. They were interested in what I was doing!
Over the Christmas holidays, I stayed in Spain and took my pens and notebooks by bus from Cartagena city where I live to Murcia to draw the front face of the Murcia Cathedral. It started getting very cold especially during winter, so I was wearing the gloves and warm coat that I bought months earlier in Cartagena.
Sitting still for so long without gloves would have been freezing for my hands so I would have quit drawing without them. If I had bought them before moving to Spain it would have been too difficult to fit them in my bags amongst all my other belongings.
Don't forget to bring medicines…
Not packing at all for the winter was an obvious oversight. The clothes I bought in the cities in Spain gave me all I needed for this time of year. I would also advise to pack medicine for a cold as I got one for a while before and during my time in Granada.
In Spain, I bought Frenadol capsules as they helped greatly with decongestion. These are one of the top brands in Spain. You take three capsules a day where they work on their own internally. Stores have unusual scarves in Spain that form an unbroken wool ring. You simply get one in a shop and pull it over your head to your neck to protect further from the cold.
A lot of the kids started getting a cold, so just be careful to avoid getting one yourself as well!