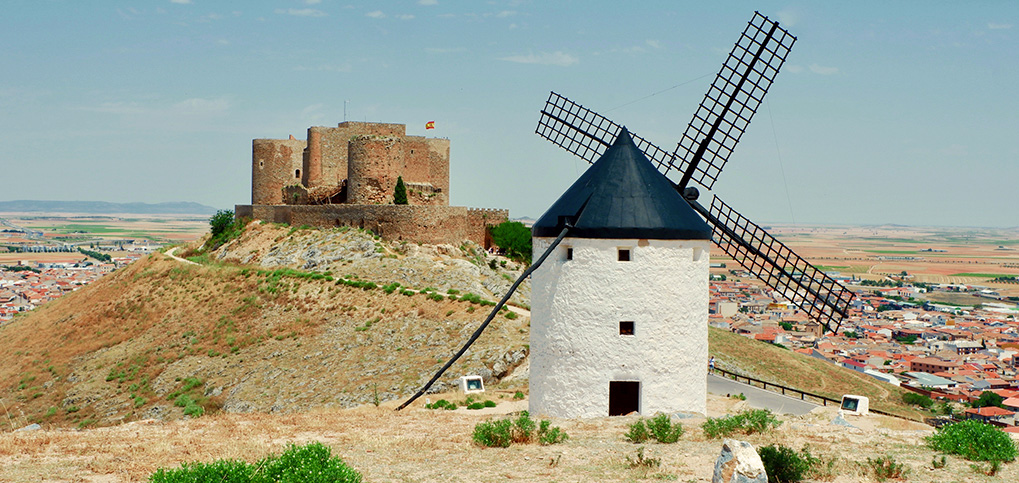 By ConversaSpain
Castilla-La Mancha is one of Spain's unknown treasures. This region full of medieval history, Arab culture, castles and cathedrals will make art lovers fall in love with it. If you are coming to teach English at a school in Spain, here are the top 5 places to visit in Castilla-La Mancha in your free time.
Toledo
Castilla-La Mancha's crown jewel, Toledo was the capital of the Spanish empire for many centuries. If you had to visit only one place in Spain, that has to be Toledo. It is no exaggeration that Toledo captures Spain's real historical, cultural, and spiritual essence.
The cathedral of Toledo is a masterpiece of the Gothic style, bound to give you goosebumps. Lok up at its towers, walk through its chiaroscuro interiors, and stand in front of the famous transparente. Then, you will start meditating on the mysteries of the universe. The Primada Cathedral of Spain, which means the prime cathedral, carries that title for a good reason.
The Monastery of San Juan de los Reyes, built by order of the legendary Catholic Monarchs, is another stunning site. Come to see its walls with hanging chains and its breathtaking interior. This is a must-place to visit in Toledo.
Just wander through Toledo's streets and find yourself surprised by the workshops of damasquinado craftsmen, the ancient technique of forging Toledo swords, the best in the world. Let the medieval, magical, mixed Muslim and Christian air of Toledo permeate the pores of your skin. If you let Toledo overwhelm you, you will never be the same again.
Don't forget to visit the magical town of Consuegra. In its surroundings you will find the famous windmills with which Don Quixote of La Mancha fought, mistaking them for fearsome giants.
Cuenca
Cuenca is undoubtedly one of the most beautiful places to visit in Castilla-La Mancha. This is a city sculpted in stone, next to the banks of the Júcar river. It was founded by the Muslims and retains its medieval air, cobbled streets, and the remains of the castle that served as a sentinel.
The hanging houses of Cuenca are an icon of the city. They are houses that overlook the river from overhanging wooden balconies. They seem about to fall into the river. These gravity-defying houses are something unique in the world.
When you stroll through Cuenca, make sure you visit the Museum of Spanish Abstract Art, one of the best in the country. Here you will find works by celebrated Spanish artists, like Palazuelo, Millares, Oteiza, and Chillida.
Before leaving, stop in front of the Cathedral of St. Mary and St. Julian, a masterpiece of the Norman Gothic style, with Romanesque reminiscences. Gazing at its ornate facade is to let oneself be transported to an era of kings, maidens, arcane priests, and invincible warriors.
Guadalajara
This is a land of squires and a magical province. Guadalajara is home to Don Quixote, the famous Spanish fictional hero. The protagonist of the Spanish novel Don Quixote of La Mancha galloped in Guadalajara with his horse Rocinante, and fought with windmills, mistaking them for giants.
Guadalajara is a treasure trove of palaces, such as the Palace of the Infantado, the Palace of La Cotilla, the Palace of Antonio de Mendoza, and the Convent of La Piedad. Step inside and let your spirit begin to shrink as you marvel at true masterpieces of Spanish architecture.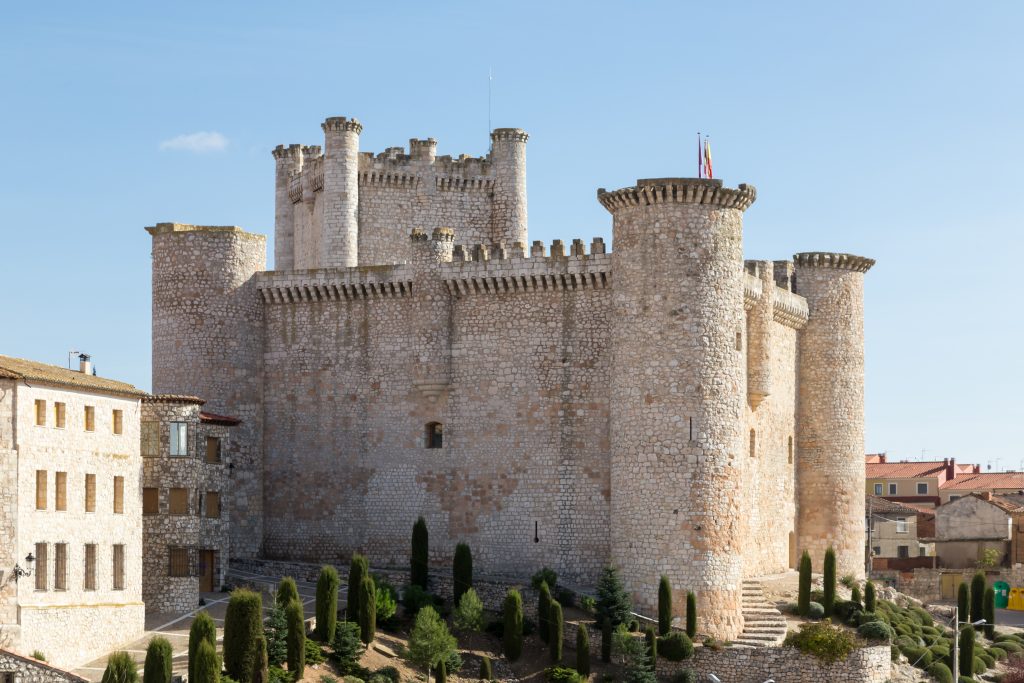 Other magnificent jewels are the Pantheon of the Countess de la Vega del Pozo, the Church of Santiago, and the Church of San Francisco. And if you are more into nature and hiking, tighten your boots and lose yourself in a hike through the Alto Tajo Natural Park!
Albacete
Albacete is famous for the quality of its steel. In the Middle Ages, its steelworks produced unmatched swords and knives. Today, you will find them on almost every table in Spain. Pay attention to the blade of the knife you use to cut your steak. It is sure to be from Albacete!
One can learn about the ancestral tradition of steel forging in Albacete in the Museo de la Cuchillería. It is a precious palace with towers and stained-glass windows that looks like something out of a fairy tale.
In the core of the city emerges the breathtaking cathedral of Albacete. This architectural marvel will amaze cathedral lovers. Close by is the Pasaje de Lodares, a commercial and residential gallery with an iron and glass roof and Renaissance-style columns.
A fun fact is that Andrés Iniesta, one of the best soccer players of his generation, was born in Albacete. He was the soccer player that scored the winning goal for Spain in the 2010 World Cup.
Also, Albacete is close to the Mediterranean beaches of Valencia, so it is easy to go for a swim.
Ciudad Real
Get lost in the streets of Ciudad Real and let yourself be captivated by the cathedral's mysterious aura. Have a coffee in the main square and visit the Don Quixote Museum and the Cervantina Library. Here you will learn more about Miguel de Cervantes Saavedra, considered to be the greatest Spanish writer to date.
If you need to get in touch with nature, you can go on a hike through Tablas de Daimiel or Cabañeros National Park. Moreover, here you can observe magnificent specimens of the Iberian Peninsula's flora and fauna.
Almagro, a charming town in the province of Ciudad Real, is considered one of the most beautiful towns in Spain. Its historic center has been declared a historic-artistic site. Also, Almagro is famous for its tradition in the world of theater. It preserves a traditional corral de comedias, where the International Festival of Classical Theater takes place.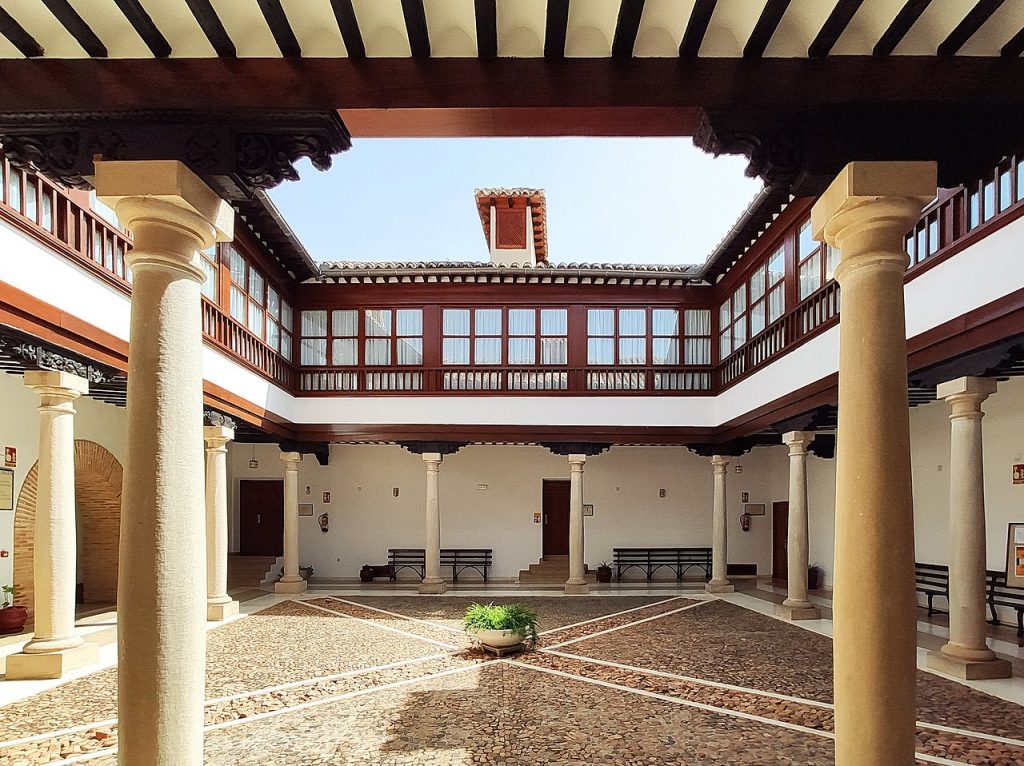 Another fun fact is that Pedro Almodóvar, a famous Spanish filmmaker, was born in Ciudad Real. More precisely, he was born in Calzada de Calatrava, a cute little village in the south of Ciudad Real that is worth a visit. This village is also memorable for its medieval castles and its link to the Order of Calatrava, full of exceptional knights and warrior-monks.
Here are 5 of the most important places to visit in Castilla-La Mancha, but there are many more. Castilla-La Mancha has a lot to offer. If you are coming to teach English at a school in Spain, Castilla-La Mancha is a destination you should consider. Castilla-La Mancha is one of the best places to improve your level of Spanish, and capture the true essence of Spanish culture!