By Remy M., Auxiliar de Conversación in Madrid 19/20.
After about six months of living in Madrid, I still have not gotten bored of the MANY beautiful sights it has to offer.
Every weekend, my roommates and I try to scope out a new place to have a picnic, get a drink, or even just get some work done alongside the local madrileños. The city, while gorgeous, is pretty massive so it can also be easy to get overwhelmed with all the decisions on where to go and what to do during your time off. And, if you're anything like us, money unfortunately is an issue in many cases.
So, with all of this being said, enjoy these eight (BUDGET-FRIENDLY) recommendations on where to relax or spend your weekends!
El Retiro Lake
Retiro Park is essentially the Central Park of Madrid, and it is one of my favorite places to relax over the weekend. There is a large lake in the center of the park which was originally constructed in the 1600s to serve as the center of the Buen Retiro Palace garden for King Ferdinand and Queen Isabella. Currently, this pond is an attraction for both locals and tourists who want to rowboats, sunbathe, or even just sit and relax. My roommates and I venture here every once in a while to paint, picnic, and watch the sunset from across the lake.
Entry Price: Free
Row Boats Price: €6/boat (each boat can fit up to four people)
Palacio de Cristal
This beautiful architecture is also located within the large Retiro Park. It was built in the late 1800s, along with the artificial lake with a fountain that sits in front of it. Although I have never actually stepped foot inside of the palacio, it is beautiful to look at from the outside. While there are often many people around taking pictures, this is another great picnic spot that I have been to.
Entry Price: Free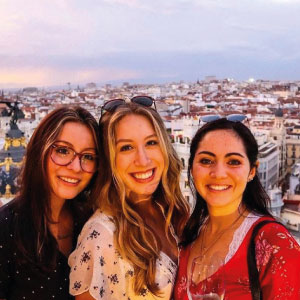 Círculo de Bellas Artes
If you like rooftop views, this place is DEFINITELY for you. The azotea, or rooftop, of this building, gives the most spectacular views of the city
I have seen – still unmatched in my opinion. It provides you with a giant panoramic of the city at 56 meters tall. In addition, you can enjoy the view with drinks from the bar or food from the restaurant at the top. It should be noted, however, that there is an additional charge to even get up to the roof before ordering anything.
Entry Price: €5
Doña Luz
If you still want a rooftop view and a few drinks but are broke (like me), be sure to check out this place instead! While I have to admit the view isn't nearly as nice, admission is free and the food and drinks are cheaper than Bellas Artes. It is slightly hard to find, however, because the doorway is very narrow and close to some big restaurants near Sol, so keep your eyes peeled when you go!
Entry Price: Free
Reina Sofía
The Museo Nacional Centro de Arte Reina Sofía, or more commonly known as just the Reina Sofía, is Spain's national museum for 20th-century art. It is one of the world's largest centers for modern and contemporary art from various international artists. They have specialized exhibits for many Spanish artists as well (including Pablo Picasso and Salvador Dalí). I, personally, prefer modern and contemporary art to classical art. If you are the opposite, I would recommend the Museo del Prado as well.
Entry Price: Free with a TIE or document that shows you are a student (otherwise it is between €8 – €10)
Sala Equis
Located in a historical building in the city center, Sala Equis was Madrid's theater and has since been transformed into a bar. It still has a large projection screen for movies, so be sure to check online for times! Acoustic concerts and other large events have also been known to take place in this space. There are still many old flyers decorating the interior, so be sure to take a look around when you go.
Entry Price: Free
El Rastro Market
This is the most popular flea market in all of Spain. It is located along Plaza de Cascorro, and merchants go to sell a WIDE variety of products including clothing, antiques, and jewelry. In addition, the music scene there is amazing! Musicians, singers, bands, and dancers all come here to perform for tips, and most of them are REALLY entertaining. The market is open every Sunday between 7am and 2pm, but vendors typically begin to pack up around 1pm. I recommend going earlier so that you don't miss anything. One thing to note before going is that this is known to be the breeding grounds for pick-pocketers (just the same as any other big market in capital cities around the world). Few of my friends have lost phones here… Keep a careful watch over your belongings!
Entry Price: Free
Santiago Bernabéu Stadium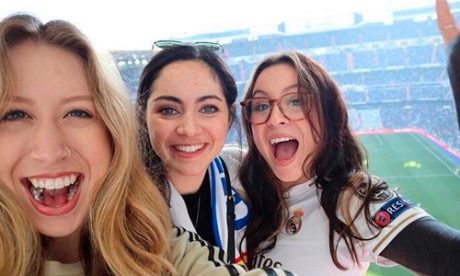 If you have a chance to see some live-action fútbol, GO! Santiago Bernabéu is the home stadium of Real Madrid and the second-largest stadium in all of Spain. It has a beautiful field, world-famous reputation, and thousands of fans that desperately want to see their team win.
My roommates and I went to a game where Real Madrid won earlier this year, and it was one of my favorite experiences since being here. The only thing to note when going to a game, though, is that tickets are not cheap. La Liga games are cheaper than Champions League games, but they are still quite expensive. While I would 100% say that the fun is worth the price, keep this in mind when purchasing tickets!