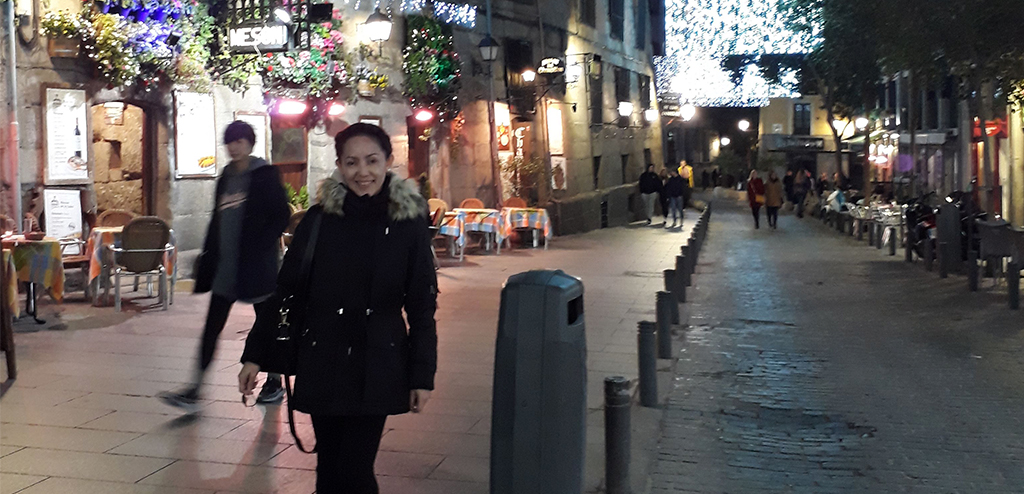 By Dinah E., Auxiliar de Conversación in Madrid 19/20.
One of the greatest opportunities of an Auxiliar de Conversación is to learn about Spain's cuisine. I was very excited to explore this area because I love to cook. The first time I tasted the food was at the school during lunchtime, and I only have one word to describe my first encounter, and this was a – WOW! My eyes went BIG when I saw the cart filled with food.
I told myself "if this goes on, I'm going to gain weight here". How can I resist such a festive sight!
Typical Spanish food includes chorizo, jamón, beans, eggs, olives, potatoes, green leafy veggies, tomatoes, queso and a lot of salsa. I noticed that the first two are almost always present in every meal. It seems that Spaniards could not live without it. There's even a Museo del Jamón at the Madrid Centro where they flock to purchase their jamón.
On national television, I saw jamón given out to people as presents during the Christmas season. It was from a window and, below, there were people waiting for their jamón leg. They eat the jamón and chorizo on top of the bread that has olive oil spread out on it, or just the jamón and chorizo itself with no bread.
The cocido madrileño was the first Spanish dish I have tried. It is Madrid's famous stew. I learned that all of the ingredients here are boiled. It consists of chickpeas, potatoes, carrots, onion, garlic, ham bone, chunks of ham, bacon, veal bone marrow, fine pasta noodles, olive oil, and enough water to cover the above ingredients.
There is also an option of adding other veggies on top of the ones that I have mentioned. This is best eaten in winter.
The second dish I tried was the paella! I went around Madrid Centro looking for a restaurant that served this popular dish, and well, it was everywhere! Paella is rice with meat (seafood, chicken, pork, or beef), saffron, white wine, and tomatoes on top of the secondary ingredients.
I didn't order anything else, because it was more than enough to fill in my hungry stomach. After my encounter with paella, I found myself wanting for more. So I had another round the next time I went to the center in another restaurant.
The third was the bocadillo de calamares. This isn't a dish, but more of a snack. However, its size and content make you feel satisfied. It is a squid sandwich that is made with squid, chickpea flour, wheat flour, extra virgin olive oil, and of course, the baguette bread.
I see many Spaniards lining up outside the restaurants just to have a bite of this famous sandwich affordably priced between three to five euros. When you're on a tight budget, this will do!
The fourth was the tortilla de patatas. Well, I'm a sucker of potatoes! It's the kind of vegetable that I don't mind eating every day as long as it is cooked in different ways. This Spanish dish is very versatile because you can mix it with a variety of ingredients. Since potatoes are starchy, it gives you the filling of fullness after eating one or two big slices of a tortilla. My landlady introduced me to this dish while I was cooking the basic omelette recipe. Writing about this now awakens my desire to cook this dish again soon.
The fifth taste test was the empanada. This is really not new to me because we have it in my country, but a Spanish empanada is totally different because of its filling. There's this cute coffee shop at a corner in Madrid Centro, where they serve empanadas with different flavors at 2.50 euros per piece.
You can also buy a box of empanadas as a takeaway. It's a good alternative for a slightly heavy meal. It works just fine for me.
Looking for Alternatives
Madrid is not only confined to Spanish cuisine, but the city also has restaurants that offer cuisines from other countries. I visited these restaurants every Sunday, and compare one food from another. It is unfair to reach a verdict as to which cuisine is the best, but rather, each has its own specialty that stands out from the rest.
I went to the Alcampo store in Estrella Madrid last December and had my lunch in a nearby Middle Eastern restaurant. It was a simple restaurant but the food was superb! It was a huge grilled chicken served with rice for only six euros! I was not able to consume it because of its size, so I took it home and had it for another meal the next day.
Another unforgettable meal was in a Chinese restaurant in Sol across Mercado San Miguel. Their menu offers you a lot of options where you can order one dish good for two people at ten euros less, and the food was fantastic! I visited this restaurant three times!
The last time I ordered a bowl of vegetable beef noodle soup (forgot the name!) and the serving was good for three people! So I ended up taking it home again (lol!).
There's this Wok Street restaurant that I visited twice where they prepare the food in front of you. I super like this place because of its practicality and affordability. It's like you are walking down the street and you feel hungry, and you happen to pass by this restaurant, so you go inside and eat. Their sauces give wonders to the food – my fave is the curry sauce!
The Japanese food at Gyoza y Ramen Kuraya is definitely on the list. The restaurant was very clean and orderly. The food was very nice and inexpensive. It's a place where you can have good conversations with your friends while enjoying a healthy meal.
I had an unforgettable meal at Bar De Colores in La Latina where they served Senegalese food at six euros! It was my first time to try this cuisine and I fell in love with it. I love the fusion of spices in the food mixed with rice. It was so flavorful!

Not to be outdone is the Mexican food in La Mordida. I love queso, and Mexicans have a lot of this in their food. Hence, each bite of the quesadilla and queso fundido was heavenly! The restaurant's ambiance is very festive which, in turn, creates a festive mood amongst the customers.
Of course, there's the Italian food! One of my fave cuisines! I went to Aio, a very nice Italian restaurant where I ordered this mouthwatering carbonara and pizza. Note that the chef specifically asked us to eat the carbonara while it's hot because it's when we can appreciate the taste more, and it's true!
I love the ambiance of the restaurant. It has a relaxing atmosphere where you can talk to your friends for a long time without having to shout or worry about anything.
After having my meals in these restaurants, I go to Mercado San Miguel for my desserts. It's a place where you can find many pastries, cakes, and wines to choose from. Tourists frequented this resto-bar because of its uniqueness and fun-friendly atmosphere.
I guess I have covered all of my food trips in Madrid every Sunday. I look forward to another ronda very soon!!