By Andrew H., Auxiliar de Conversación in Murcia 19/20.
My favorite way of teaching online is through worksheets and some illustrated videos. I also use notes that combine drawings of the students and characters like Super Mario. Whenever making videos for students, I first send them via WhatsApp to all my Spanish bilingual teachers. I also upload some of them to their Youtube accounts, so that the students watch them.
Rainbow Pony Storytime Video
In this video, I needed to gather a lot of illustrations to put together an exciting story. It was for my students from ages 5 to 13. I started by illustrating a 'My Little Pony' called Rainbow. My fellow Spanish teacher, Gema, suggested her as the main character. She has rainbow-colored hair and would be perfect for teaching and revising the colours.
I have many drawings that I have made this year. They are based on famous buildings around Spain, some from Murcia, Cartagena, and Seville. These would create different stages of the tale. I re-drew Rainbow Pony and cut her out to place in some of these illustrated locations.
Throughout the year, I made many drawings of my students for them, so I included any that I had left for the story. These were important, as the students were drawn as princesses. This would already form the narrative I wanted to make for the video. The story would have to be simple and logical to make it accessible to a broader range of ages and English learning levels. Therefore, I based the journey on the simple desire of the pony to find and eat some tasty carrots.
Rainbow Pony is drawn at the start of the video like a hungry pet looking for a carrot. She uses her wings to fly to the first locale. These were the beaches of Malaga, that I drew when I was there with fellow teachers two months ago. The pony notices that the beaches are quiet and there are few people to ask so she moves on.
 The Princess and the Pony
Nerea, a student of mine, had already been drawn in the plaza of Murcia city dressed as a princess atop a 'My Little Pony'. So, she was the princess the pony would first encounter. Since the video is about teaching colours, I talked about the different shades of light and dark blues on her dress. The castle in the background has orange walls. The skies are light blue bathed in orange beams of light from the gleaming yellow sun.
The pony moves onto the next location searching for the second princess. During lockdown in my apartment in Cartagena, I drew the view from our sitting room window. It shows the pretty balconies above the designer clothes shop. This is the street Calle Carmen in my home city of Cartagena. It has been pretty empty during the lockdown. So, these times and events have given me a lot of time to do some detailed drawings in Spain to include in my online teaching.
Putting Your Students into Your Stories
I placed the little cut-out drawing of Rainbow Pony on this picture. The aim was to show her flying throughout the streets, looking for the next princess. The next princess is a drawing of Ferdaus, a very energetic student of mine who loves 'My Little Pony'. The Pony 'Rainbow Dash' is her favorite so that's why she became the main character of this story. It is a very colorful drawing, so it was useful I had kept this drawing to use in the video.
Finally, the pony arrives at the white castle. This is a drawing I made of the Palacio Consistorial Town Hall of Cartagena city. The pony enters the courtyard. This is a bigger painting I made of a Flamenco dancer when my fellow teachers and I visited the Plaza de España in Sevilla. This worked as a castle courtyard to fit into the final part of the story for the arrival of Rainbow pony.
Princess Yolanda is based on a Spanish dancer I saw in Sevilla one day in the street who had flowing black hair. Yolanda gives Rainbow pony home and food along with the carrots she was looking for. So, I illustrated Rainbow in a cookie jar eating carrots with a thank you message.

Crosswords to
 Make Memorizing Fun
On subjects such as hobbies, ecosystems, and matter I started writing crossword puzzles for the kids. I looked over my La Palma school science books on the syllabus and went to the chapter on ecosystems. I then listed out keywords that were important to memorize. These were then hidden in the crosswords and word searches, to help students learn from home. This is a fun way to study and revise as games are always an inviting way to learn.
Simon Says Videos
It has been years since I've played Simon Says. So, I first had to think of how to make a video on it despite being under lockdown in Cartagena. I went to Youtube and found a good video where someone calls out the commands. I decided to place my laptop behind my phone in the hallway. My phone would record the commands coming from the laptop.
Meanwhile, I was in front of the phone in the hall and could perform the actions on film. The purpose is for kids to memorize many different physical body actions in English and perform them only when they hear Simon Says. The video caught me out once where I put my hands on my head and the Youtube video as if realizing funnily, pointed that out to me.
"Heads, Shoulders, Knees and Toes" Kids Video
In my house, we have a long corridor. This would be a great place to make a few exercise videos for younger students. In school this year the most common popular English game with the youngest pupils was 'Heads, Shoulders, Knees, and Toes'. I found an Elmo video online that instructs the viewers to copy his actions to his rhythm.
Honestly, I got the rhythm and actions wrong numerous times before I finally got the hang of it for a recording. Whenever my students in Year 1 were doing this, they never made mistakes. It showed how well they memorized this activity in English, a foreign language to them. Games such as this are most useful for memorizing body parts while getting them active and engaged.
I noticed in class that this game would be an excellent mid-lesson. It would re-energize the kids as they loved to get up and physically engage with a dance-like activity after lessons with writing.
My Favorite Hobbies Worksheets
One key difference I've noticed from teaching Spanish kids, as opposed to my home in Ireland, is that here in Spain they all love the same things I did when I was their age (and still do). They love Pokemon, Mario Kart, Nintendo games, and most prominently Spanish football.
Because of these interests and hobbies, it's easy to use my love of drawing and writing to make worksheets for students throughout this year. This is a very important tool for teaching students online. If you can do these, you can create the worksheets from scratch based entirely on whatever you want to fit the curriculum.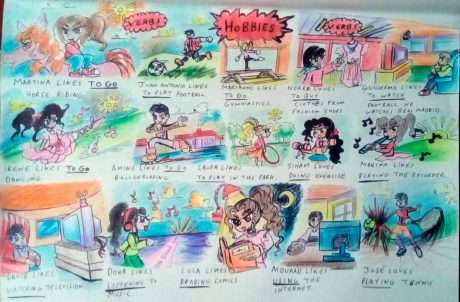 Then, you can illustrate realistic imagery or cartoons to keep students engaged with fun schoolwork. That is more inviting to complete during a lockdown. The Hobby worksheets were the first ones I started, and I drew Mario Kart to represent the go-carting hobby.
Overall, these were my favorite and most useful teaching methods for my online teaching during the lockdown across Spain. This is what I would advise to others having to teach long distance. Make worksheets by cooperating with your fellow Spanish school teachers, make stories, and do physical activities to teach students in videos to improve their English.