By John Z., Auxiliar de Conversación in Murcia 2019/2020.
One of the most difficult things my wife and I had to do was pack. It was made slightly more complicated for us because we would be doing two months of travel before finally settling down in Spain. Here's hoping I can pass on some of our learnings to you.
I was lucky enough to receive a lot of advice from others who had done something similar, so for me, I wasn't going into this blind. It's good to remember that packing will always be a task that we put in the 'stressful' column. Add to the mix that you will be uprooting your life, leaving family and friends, and have no clue what to expect in this new country, call it a lethal combination.
I have broken down what you should pack into various categories. These are: must-haves, should-haves, and could-haves.
Must-Haves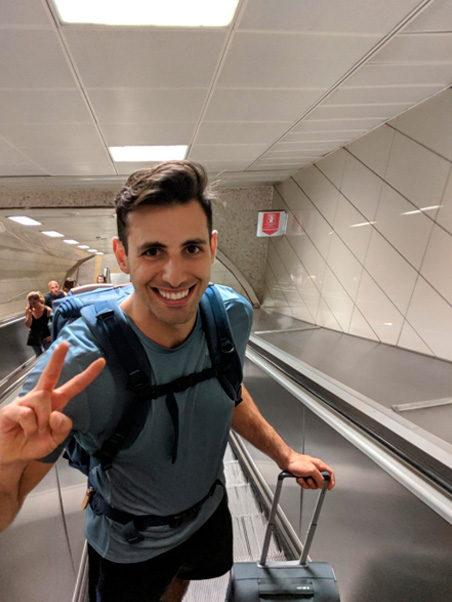 In my view, these are the critical items you need and that I would strongly recommend not leaving without them. If you leave everything else at home and only left with the following, you would be fine:
Your passport
Your Spanish visa
All other required documents for Spain
*I would also recommend taking photocopies of the above as well as having each of these saved onto the cloud (i.e., Google Drive). Technology is our friend, use it!
Cash (physical cash). I would recommend around 400 euros.
Access to at least 2,000 euros (be it a travel card, credit card, etc.). You don't know when you'll need the money, and it is always best to be safe and ready for any challenges that may come up for the big move.
Backup payment method (another credit card etc.)
Passport and Spanish Visa. These are no-brainers.
Your paperwork is one of the most critical items here. You do not want to be in another country illegally. Make copies of everything and make sure you can access these online. There have been countless situations, especially at the beginning of setting up life in Spain, where I have simply just pulled out my phone and been able to present the correct, required documents in less than 60 seconds.
In terms of money, I think it is valuable to have some euros on you before coming to Spain. Exchanging money in Spain is notorious for being a rip-off so try and do this before you arrive. This is your backup cash. If all goes wrong with your electronic funds, you want to have some bailout money.
I recommend at least 2,000 euros in savings. The reason I say 2,000 is because you need the buffer. You want to be able to still enjoy yourself without stressing over when the next pay cheque will hit your bank account. This money is necessary to pay down deposits, and sustain you until your stipend arrives. Be mindful that pay is sometimes late. This shouldn't be an issue if you plan for it appropriately.
I recommend having multiple ways to access this money. Find a good travel card which won't kill you on exchange rates. Look into credit cards, link them to your phone, so that you can use tap and pay. The last thing you want is to be stressed when you have lost a card, or when your bank card breaks; this happened to me. I would love to provide advice on what cards to get, but this will be country-specific. Online banks are becoming major players in this field so make sure to give them a look into.
That's really it in terms of essentials. When it comes down to it, you don't need to stress and freak out about clothes. These are ultimately not important. These are material objects which you can buy if you happen to have missed something.
Should-Haves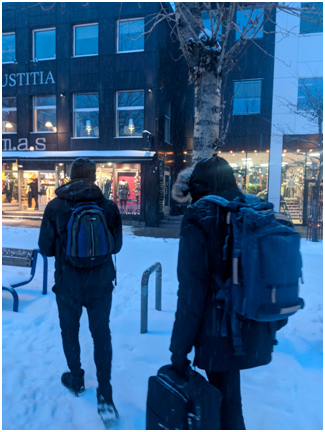 This is where it gets a little harder. You're going to want to overpack. Everyone does it. Start by remembering what you will be doing and where. Chances are you will be placed in a small town and working at a school which has a very lenient dress code. You don't need to worry about multiple outfits, and the newest trends. Pack basic and for comfort.
Also, I would suggest doing some research on the area you will be placed in. Look into the weather and understand the types of clothes you need. If you plan to travel throughout Europe, think about what that means for your wardrobe. For example, my wife and I were placed in San Javier. Essentially, there is minimal rain and pleasant weather all year round. We knew we wanted to travel much of Europe, so that meant we would need winter clothes to account for the varying seasons.
I am not going to list out every single item you need here, but rather the critical pieces:
A great (not just good) lightweight jacket. These things are lifesavers when it comes to warmth and ease of packing. Uniqlo has a really great and versatile range.
A microfibre towel. Similar to the above, there is nothing worse than not being able to shower because you don't have a towel. Microfibre because it dries crazy quickly and can be packed rather small.
Good shoes. Yes, shoes. I am strongly by the view you should alternate shoes each day (so don't wear the same pair two days in a row). You will be on your feet so much in the class, and chances are you will be walking a lot more. Invest in yourself here.
Travel adapters – it really sucks having to buy these when you get to Spain. It is just another thing you will have to worry about. Like I said, know what weather you will be facing…
Could-Haves
These are the things which I didn't really consider were critical, but I am so glad for them:
Amazon Prime subscription for Amazon Spain. Before Spain, I didn't even consider this. They have a free 30-day subscription which I recommend using. The benefit of this is when you need something (and you will), you will get free expedited shipping. We needed things like extra towels and bed linen, so Amazon Prime was a blessing when they arrived at our house the next day.
When we signed up, we received one month of free calls. After this, I topped up with $5 of credit. This is really useful when you need to call all across the world and not get stung with high carrier fees; especially useful when you haven't set up your SIM.
My e-reader. You will have a lot of downtime. For me, this means more time to read. My kindle is great not only because I don't have to lug around books, but I also find it a lot easier on my eyes.
A diary. I have not kept a diary prior to this trip. I recommend it to everyone now. You're on an experience of a lifetime, why not capture it. It is also really cathartic.
A laptop. I do not think you 'need' this for classes or anything like that, but it will make your life a lot easier.
Less Traditional Packing Recommendations
Download offline maps, while you're settling and without Wi-Fi for a quick minute, these are an absolute lifesaver.
Download an offline translator. Unless you're fluent in Spanish this is a necessity.
Start thinking about what you want to do with your free time. You will have a lot of it. Do you want to teach online or perhaps learn a new skill? Whatever it may be just have something in mind.
Travel insurance. So while you might be covered with the program, this won't include travel outside of Spain. Think about the best way for you to cover yourself if you are choosing to travel outside of Spain.
Car rental insurance. So this can be linked to the above, or online providers to provide it separately. If you plan to rent a car make sure you get this.
International driving license. Depending on where you are coming from, you may require this. In Australia, it was very easy to get, and while I haven't always needed it, it has sped up the process when renting cars.
Get all your documents online. This means all the flights, accommodation, visas, etc. Anything you might need to make sure you can access it online from anywhere and any device.
General Packing Advice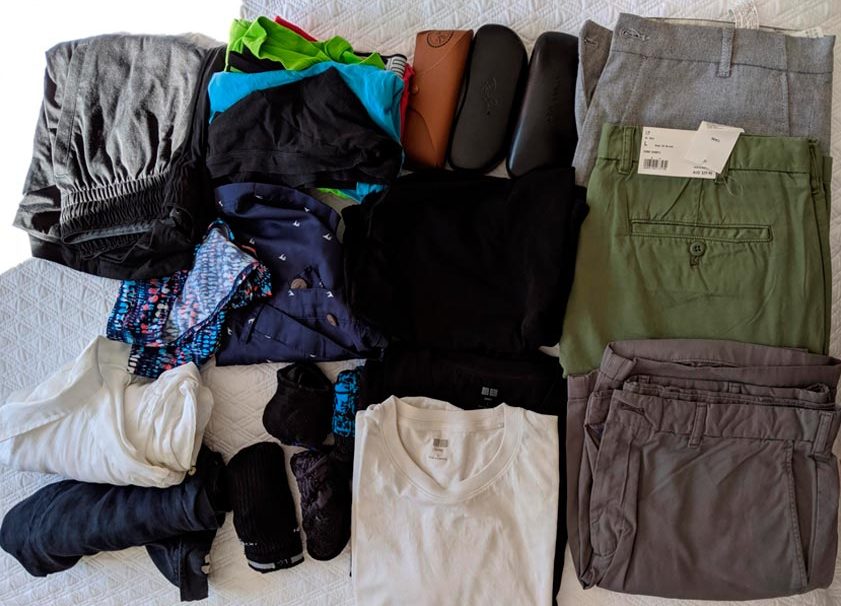 No matter whose advice you follow or how much luggage you can take, do yourself a favor and do some trial packs. My wife and I ended up packing our luggage two weeks before our trip. It was still a very stressful experience.
Lay everything you want to pack out. If it helps lay them out in various outfits. It will just help you visualize if you are missing anything critical.
By approaching our packing like this we left ourselves plenty of time to see if we needed extra luggage, how close we were to our weight limits, and most importantly if we were missing anything.
Better to Be Safe than Sorry
Make sure you pack your carry-on as though you were only taking that for the weekend. In case your checked bag goes missing/delayed, you want to have a couple of days worth of clothes on you. Again, think essentials here.