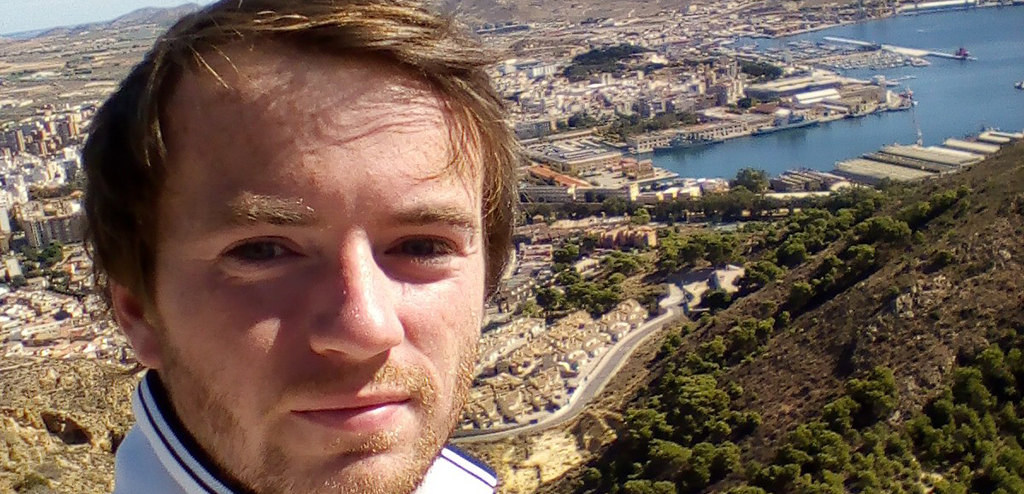 By Andrew H., Auxiliar de Conversación in Murcia 20/21.
This is my second year teaching in the city of Cartagena in the Region of Murcia. This is my favourite city to live in here in Spain. The lifestyle is great here! So, if you are thinking about teaching abroad with ConversaSpain, I would like to talk about the pros and cons of living in the Region of Murcia.
Pros
Finding a Piso in Murcia During the Summer
My roommate Danna and I started looking for a home in July in Cartagena city. Preferably, near the schools where we would be teaching. Last year, my school was in the town of La Palma and this is on the outskirts of Cartagena city, having to be accessed by bus every morning.
My roommate Danna and I wanted to stay in Spain over the summer. After the school year, we wanted to obtain work. What kind of work? Well, something that was similar in nature to working as primary school teachers in Spain the year beforehand with ConversaSpain.
To have extra money and further our teaching experience, during the summer, we both worked as au pairs. I was living with a lovely Spanish family in Benicarló city in the region of Valencia. This gave us both immeasurable further experience learning Spanish and adapting even further to Spanish customs. After the season of summer, with the coronavirus lockdown, we were finally allowed out again. Thus, we moved to our new families.
As neither of us were living in Cartagena city during the summer, organizing our housing, meeting the owners beforehand, and booking the accommodation online were a necessity.
Danna contacted me with the details of a potential home she had found while looking online on idealista.com (one of the best webpages if you are looking for a piso in Spain). I got the long train from Valencia to the Region of Murcia in the south to meet up for the house viewing.
Online Search
For the second year in a row, we went through the website idealista.com. When you subscribe to their website, especially months early before starting work, you lock down the necessary accommodation, and they will send at least 20 emails of different Airbnb's, houses, homes, and apartments for you to assess.
This was crucial for me, as it laid out many differing options from experts. An important point to note is that we booked this location early and paid the deposit. This allowed us to immediately have our place secured.
We arrived at Calle Montanaro, in Cartagena, Spain. We had to book an Airbnb and stayed there the night before. In addition, I would like to recommend looking for accommodation in person if it is your first time here. You can book an Airbnb or a hostel for a week or two while starting the search.
We first looked at the room that was advertised with the flat owner. But, upon looking, we asked to have a viewing of other rooms on higher levels. We found the perfect room shortly after, with all the facilities based around a central dining room.
Housing in Spain
In terms of the layout. The accommodation circles around a central salon area, with two small balconies: one in the front bedroom and one in the sitting room. There is a small kitchen and a quaint little bathroom with a bath and a shower. The balcony looks down into a narrow street, awash with so many cute rival balconies belonging to new friends of ours. The house is kept mostly empty, spacious, and clean. Free of excess materials and clutter it looks very modern.
I was very happy to be placed in Cartagena city! It is on the edge of Spain and thus contains a beach, a port full of beautiful boats and a tourist cruise ship with which we have travelled around the coast. Living in Cartagena, I'm near both of the secondary schools I teach at and pass students randomly. It's very funny because they react, "Hello teacher". I immediately noticed this, as it is so rare to find people here in Cartagena that speaks any English.
Sharing Accommodation and Making New Friends
Danna is a great cook and makes beautiful food for us while I clean. We eat food like chili, carbonara, and chicken drizzled in lemon. Furthermore, we've met many of our friends who live nearby: university students from Italy and Germany.
Daily Life in Cartagena
Our flat is near the Teatro Romano de Cartagena. It is a great location. I climb the hill and go there to sunbathe every week. The temperature warms up in the evenings even during October and November. We are one street away from Calle del Carmen, which is the focal street of Cartagena city, containing all the best cafeterias, restaurants, and bars. We used to spend wonderful afternoons with our friends: that is one of the best pros of our apartment.
Where we live, we have made many close friends from Spain, Italy, and Germany. It's a great home to return to from work!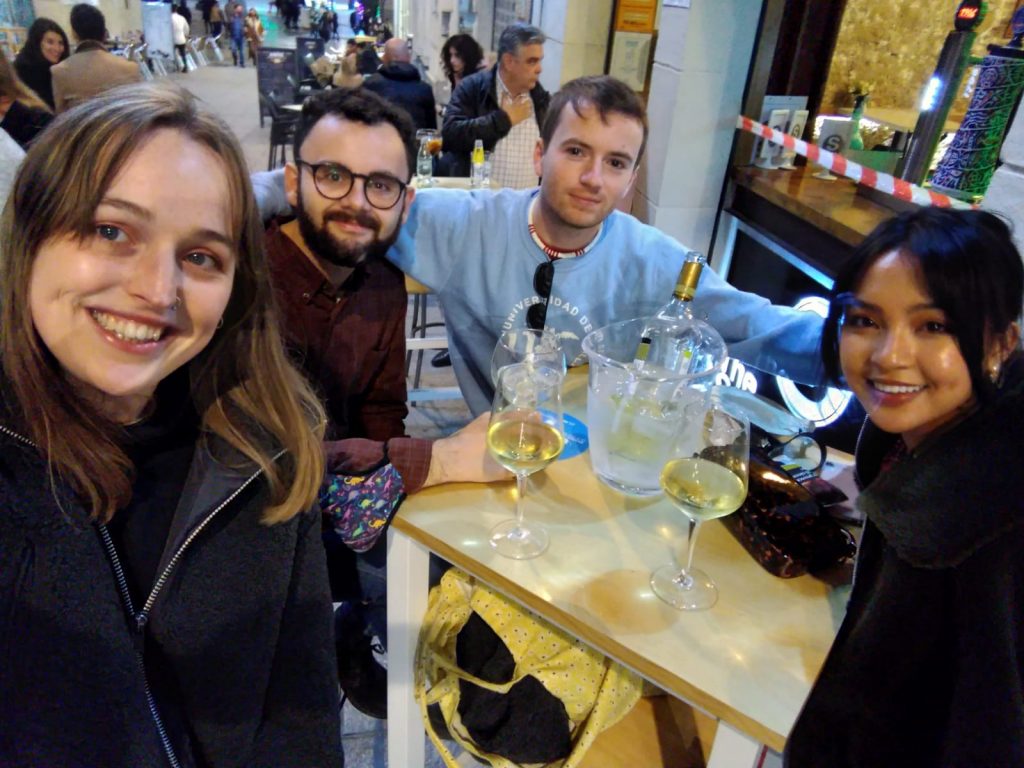 Location and Lifestyle in Cartagena 
The city of Cartagena has a small beach Cala Cortina that is within walking distance and I go here with my fellow teachers to sunbathe, even to have a nap on the beach during the evenings after a long day of teaching.
Everything, be it food, stores, bars or beaches are available near our house. So, I'm very happy with my home in this city for a second year. All of Spain has an illustrious history of architecture from the bright, colourful, vivid spectacle of Arabic buildings, to the dark sombre Gothic structures that line the main citadels. Our home gazes down at beautiful illustriously designed cream-coloured homes articulated with deliciously detailed shapes strewn as far as the eye can see.
Honestly, Cartagena to me is like a city paradise. The main street of Calle del Carmen is made of beautifully designed stone spirals, same as the floors of many buildings here. Stone repels heat and creates an unblemished classy environment to live and work in. Where I live has a huge impact on my enjoyment and fulfilment in my day-to-day life. The people in this country are always fun and pleasant to work with.
Fabulous Temperature
In terms of working here and the lifestyle, Cartagena grants a perfect location for people who love warm sunny holidays. A key reason I prefer the Murcia region over many neighbouring regions of Spain or countries is that since Murcia is so far south. It provides near-endless blue skies, sunny days, heat and is perfect for sunbathing and getting a tan. These qualities are so far apart from my home of Ireland. The winter this year in Cartagena city is warm and cosy enough to spend lovely evenings outside around the cities and beaches even after days of work, where they would darken and sour in Ireland.
Cons
Murcian Accent
In Cartagena and the greater Murcia region, people speak a different, rougher dialect than what is common in other regions of Spain. I still feel that it is not too difficult to get the hang of, and it makes other common Spanish dialects easier to understand after some time spent living here.
Language Barrier in your Daily Life
For me, the most challenging time for a non-Spanish speaker is a doctor visit. Revise over what you want to say or do some online search via Google well in advance, as many hospitals have much poorer English than they even realise. Medical expertise is one of the most difficult things to accurately translate appropriately across languages.
In conclusion, as you can see, I am really enjoying my time here in Murcia and I am totally in love with the Murcia region. There are much more pros than cons, but trying to turn around those few cons will make them become a pro.