By Kendra G., Auxiliar de Conversación in Madrid 2021/2022
I've taken my fair share of public transport throughout the United States and other European countries. All in all, in my opinion, public transport in Madrid is one of the bests in Europe. It's easy to use: signs are written in both Spanish and English, it's clean, it's reliable, and it's very safe. Even better: if you're under 26, the monthly public transport card only costs you 20€! There's a short application to fill out (which can be done online or in-person) but only takes a few minutes. This monthly card includes access to all of the metros, the buses, and cercanías lines. There are also 10 ride cards and tourist passes if you are only here for a short time. Regardless, public transport in Madrid is an excellent way of getting around.
Public Transport in Madrid: Take the Metro
The metro is wonderful. Its hours of operation are 6:00 am to 1:30 am. The trains run every couple of minutes, so you never have to wait long for one to arrive. The metro is written in both English and Spanish, so following the signage can be easy. Plus, every line is color-coded. My point here is that you don't need to know Spanish to navigate it, and you don't even need to be a pro at public transport to use it either.
I grew up in a small town that doesn't have public transport, so I understand how daunting it can be. The metro card only needs to be scanned when you enter. Be warned: sometimes, the metro station has people to check your ID and watch the entrance so you can't share your MetroCard with your friend behind you. Every station has booths where you can purchase the card so if you ever need to reload or buy a card, it's easy. They usually take cash and cards. Plus, most metro stations (if not all) have an elevator so it's quite easy to use if you have any disabilities or difficulty moving on stairs.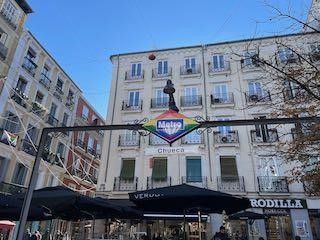 Public Transport in Madrid: the Buses
In addition to the metro, the buses help you get around both Madrid and neighboring areas. I've found them to be a little less reliable as far as arriving on time, but they're still very useful and have stops all over the city. If you don't live close to a metro station, then you'll certainly be near a bus stop. I'd recommend not using it in high traffic hours/ areas just because they can also get stuck in traffic and sometimes the metro can be faster. Just like the metro, you only need to swipe your card when you get on the bus.
There is also a system of night buses once the regular buses and metro lines close. It has slightly different routes than the daytime ones, but can be a great option at night. I've even seen security on some of the buses very late in the night. The night buses are also included in the Abono Joven card.
Some buses go further out of the city of Madrid and these are also included in the Abono Joven card.
Cercanías, Public Transport for Longer Distance in Madrid
The Cercanías trains are like intercity trains. They bring you outside Madrid as well as popular stations within the city center, like Sol and Nuevos Ministerios. They are more for longer distance travels compared to the metro. I've used them to get to the pueblo of Cercedilla to go hiking. It's more of an intercity railway instead of the usual metro. With the Abono Joven, these trains are included in the 20€ monthly card. These look more like trains and less like metros. If you want to get out of the city of Madrid for a day trip or to do some exploring, this is a great, cheap option.
General Public Transport Tips and Tricks
● You can go to some pretty cool places via public transport in Madrid. Two of my favorites so far have been Toledo, which is accessible by bus, and Cercedilla for hiking. I've also been hiking in a few other towns where I used the Cercanías trains. There are some great articles online detailing popular day trips via Madrid public transport.
● If you have the Abono Joven, take advantage! All three of these methods of public transport are included, so don't be afraid to adventure, make a mistake (or two) because you have unlimited trips!
● If you have a monthly public transport card, you don't need to pay an additional fee for the airport. The tourist and 10 ride passes do require an extra fee, so make sure you read the ticket booth clearly before you pay.
● Line 8 brings you to the airport. Know which terminal you are going to before you get on the metro so you get off at the correct stop.
● Taxis in Madrid are clearly marked. However, it's a flat rate of 30€ so think if you need it before you get one. Ubers are sometimes cheaper.
● As with any city and mode of public transport, never leave your bags unattended or phones in your back pocket/spot that is easy for someone to take.