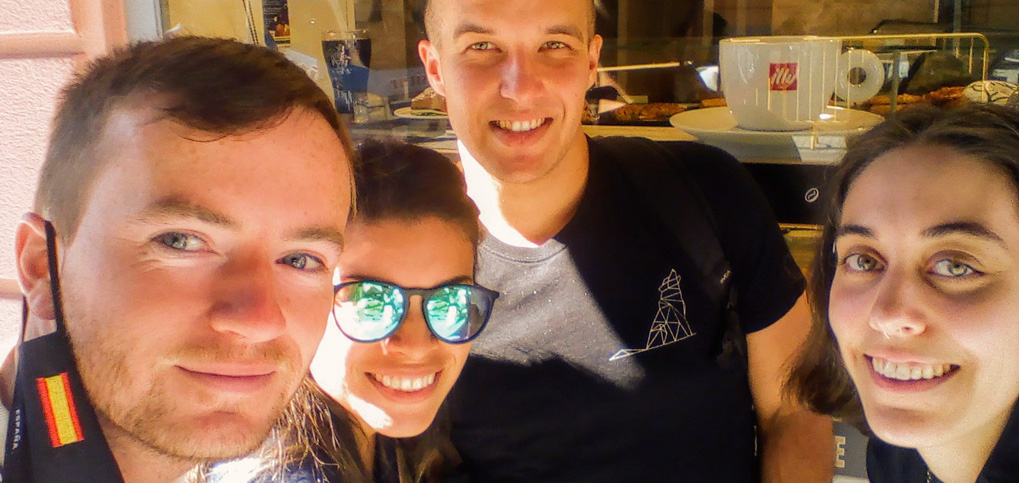 By Andrew H, Auxiliar de Conversación 2021/2022 in Madrid
Teaching Geography and Art as an Auxiliar de Conversación in Madrid
One thing I practice with students as an Auxiliar de Conversación in Madrid on a typical day are Kahoots. This month, for example, I created four painting inspired illustrations for classes based around Art and Geography. I love art so the paintings were based around the styles of Baroque, Rococo, Cubist, and Surrealist works. The students were very excited to see themselves illustrated in the classes, so implementing my art abilities was something I was planning for these classes a long time in advance. This is where the Art and English lesson began today, all students observed the paintings of their classmates and then would listen to the presentation, Kahoots, and finally collaborate on the worksheets I prepared.
The Presentation
I made a presentation which takes place first and focuses on the four countries of France, England, Germany and Italy. The presentation is created by using the Google Slides format on its website and involves a variety of media such as online imagery, Youtube videos, information on cuisine, major cities, the famous artists of these European countries, the art periods that developed there and finally the overall Geography of the region. The students read out information within the presentation which tested their pronunciation and ability to understand new or complex words in English. It contained some sections on the animals native to the countries, as a fun light hearted area of geography and its native creatures and pets to revise.
From my experience as an Auxiliar de Conversación in Madrid, many of my students love animals and telling me about all of the pets that they own. In my two and a half years living here I have learned that Spain is a country frequently obsessed with dogs so I included a video on the famous breed of Italian Greyhounds. In this section on Italy, I covered other geographical features such as famous monuments like The Leaning Tower of Pisa and foods from particular regions like Risotto, Spaghetti and Pizza. Each is most famously tied to a specific region of the long Vertical country of Italy. In Italy, we as a class also focused on paintings such as Renaissance works from artists such as Michelangelo, Rafael and Leonardo Da Vinci.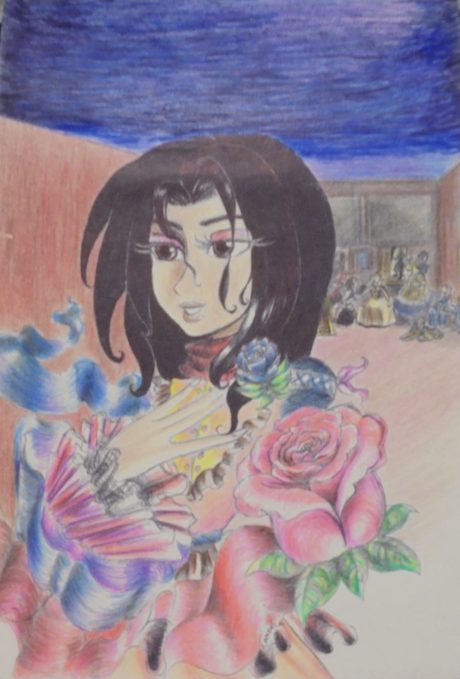 Artistic Periods
The artistic periods we covered which were key to the project were the Italian Renaissance, Rococo, Baroque, Surrealist and the Cubist styles of painting. Cubist, Surrealist and Baroque works have key ties to Pablo Picasso, Salvador Dali and Diego Velazquez. A portion of the presentation focused on the lives and inspirations of Dali and Velazquez. Finishing up the presentation I moved toward playing three Kahoots with the class.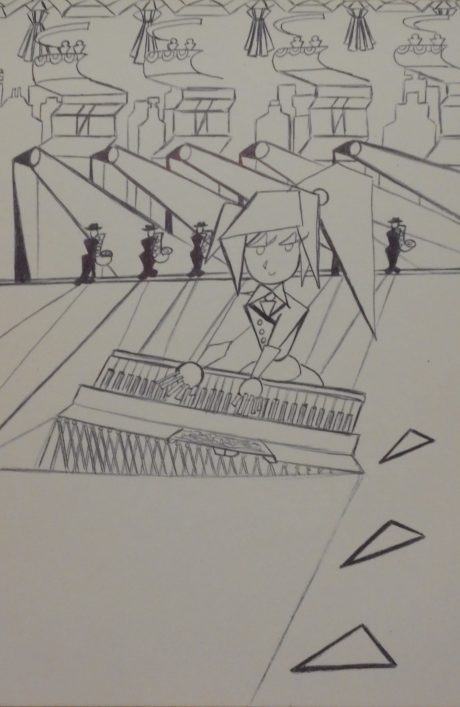 Auxiliares de Conversación use Kahoots
The Questions in two of the Kahoots were situated around the presentation and thus the answers could be found there. Another Kahoot was based around Grammar in relation to terms that relate to artists and similar performers. Delving into the endings of terms like Drummers, painters, conductors, dancers, and the like. A goal of the class was to separate the students into four groups, with each working together to get the correct answers through teamwork, study and thorough engagement with the tasks.
Auxiliar de Conversación in Madrid: The Paintings & Illustrations
The third part of the classes on Art and Geography required the students to revise over the information we had looked at so far and each group was handed out a copy of an artwork I made. There were four illustrations each being based on a student I teach being situated within a famous work and artistic period. There is Nicolas, Candela, Claudia, and Lucia. Each student inhabits an artwork from the periods of Rococo, Surrealism, Cubism, and Baroque.
The works inspirations include, The Girl Sitting at A Window by Salvador Dali. The Swing by Fragonard and Las Meninas by Diego Velazquez. It encouraged the students and made them more enthusiastic in class due to being within the actual subject I was teaching. In my experience the class was so often ecstatic when they appear in the work especially if the illustration of them is of high quality I spent a lot of time illustrating four students from memory to make sure it would be a class they would appreciate.
Games as an Auxiliar de Conversación
As opposed to my last year of teaching in secondary school in Murcia, here Kahoots are an object of fascination of both the students and teachers alike. I wouldn't play Kahoots in Murcia but so many classes I enter and brace myself for a plethora of students asking for Kahoots as part of the lesson. Spanish teachers I work with frequently request for me to create Kahoots and games on many differing topics as a joyous way of teaching the students through our lessons. This year has advanced my skills in teaching with a balance between deep informative lessons and fun light hearted games to play with the students. When making and using a Kahoot it is an experience of prediction and discovery.
A Kahoot near always must first follow a presentation. The presentation is necessary to establish the ideas, grammar and reinforce the subject matter to the students so that they are prepared for the game questions to come. This brings in the prediction and discovery elements of using Kahoot in classes. No matter how easy the questions the auxiliar inserts into the Kahoot, it's still likely possible the class isn't sufficiently prepared as English is their second language and thus there could be gaps in their knowledge. This is why a pre Kahoot presentation allows students to always be sufficiently prepared for the questions and reduces the necessity of the teacher to hope they will have a strong performance in the game.
Two Auxiliares de Conversación visiting Segovia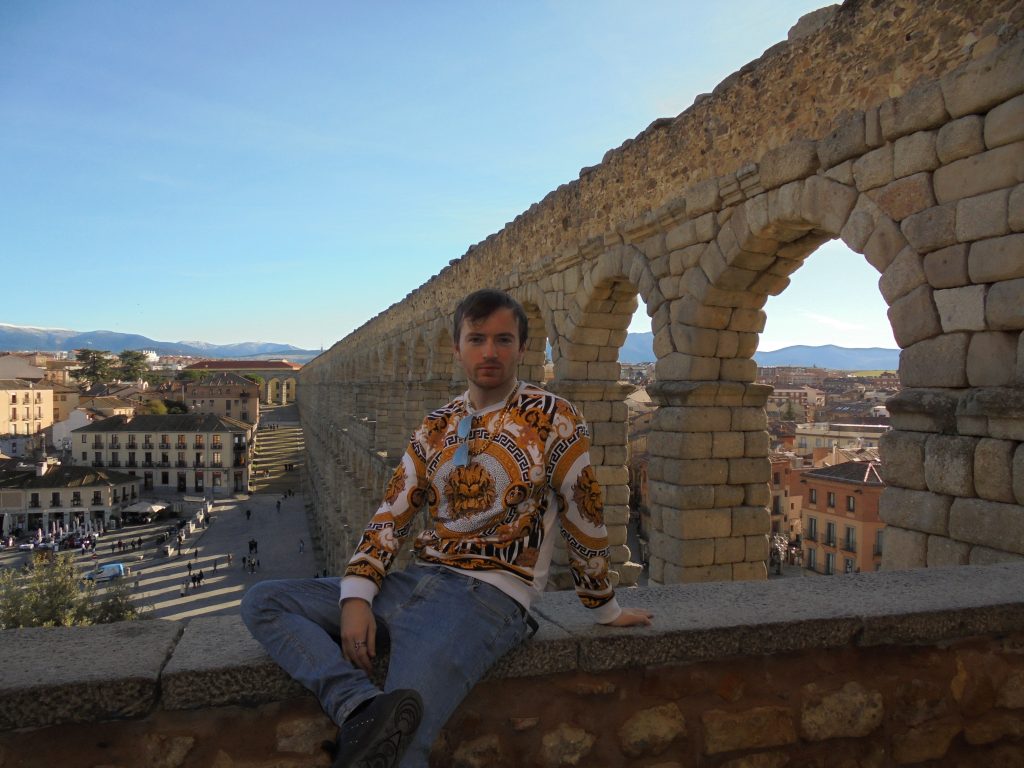 Me and another Auxiliar de Conversación in decided over the winter to travel outside of central Madrid to another quieter town for a break. We arrived in the sumptuous little hamlet of Segovia, a wonderfully tranquil little town brimming with Spanish culture. Segovia contains beautiful architecture, and notable restaurants and cafes with vastly differing food than what you find in central Madrid city.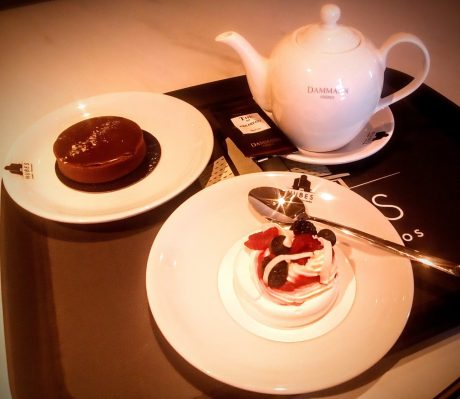 Segovia has many fantastic cathedrals and castles but most wonderous, is the giant Roman aqua duct, a vast ceaseless sprawling archway cutting the town in half, with a wonderfully illuminated Christmas tree basking in its herculean shadow. We arrived and got coffee however I simply couldn't resist getting some cakes and sweets. I got two cakes, the first a splendid frosted topped desert with blue and red raspberries alongside a delicious chocolate, toffee centred one. We basked in the tepid cold air of winter while emerging from the shade we could always put our faith in the Spanish sunshine to warm and revitalize us.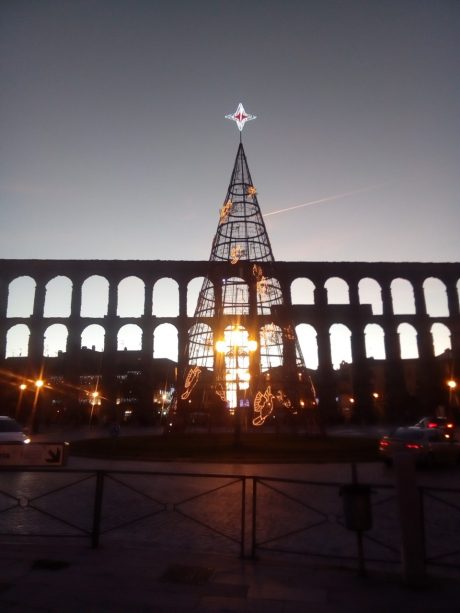 Living in Madrid
Living in Madrid in Spain is a very different experience. The weather and temperatures of course are different however Madrid is very congested with the streets, especially during Christmas filled to the brim with people. This is why Segovia felt like such a vastly different experience for me as I had not left the city of Madrid since arriving in September. One of the great aspects of living here in Madrid city is that due to its central position in Spain, one can travel to many of these neighbouring little towns like Segovia.
In Madrid there are many language exchanges that auxiliaries can take part in across the citadel. In my first language exchange I met with Spanish speaking friends from numerous different countries such as Bulgaria, Italy, Colombia and Japan. We all left the exchange after chatting and went to 100 Montaditos. This is a well known tapas food chain across Spain where on Wednesdays and Sundays most of the food, sides and Cervezas are available for a mere 1 Euro each. It was a fantastic experience and a great way to get to know new people, and a fiesta I would recommend to anyone working in this city.
Things I've learned as an Auxiliar de Conversación in Madrid
Things I've learned teaching this year are diverse. Making a presentation, I always have to be aware of the specific age group that the subject matter is tailored for and to be knowledgeable of the differing levels of the students in the class itself. Not all students are truly alike and thus I have to strike a balance between ease and difficulty, fun and doctrine. When working on the Kahoots this becomes abundantly clear. The enjoyment of the exercise must be a clear focal point as Kahoots are designed as a teaching mechanism for joyous self expression. The personality of the teacher is allowed to shine through in the choice of pictures used and the selection of questions for class.