By Alyssa C.,  Auxiliar de Conversación in Murcia 18/19.
One of the best ways to really understand a new country and experience the local culture is through food. Especially in Spain where eating is a big part of Spaniards daily lives. Eating is not to be rushed, it's to be enjoyed with friends over a few hours with many different plates. If you're looking for something typical in the region of Murcia to eat, you won't search long. You'll find something in every bar you go to, they all have a variety of tapas for you to choose from. Here's my list of 5 must-try dishes in Murcia, and some extra about desserts and produce.
My Top 5 Must-Try Dishes in Murcia
Pastel de Carne
You will be sure to spot these light delicate pies in most bakers in Murcia. The pies filled with spiced meat and sometimes a boiled egg also topped with dozens of thin layers of pastry that are carefully placed to make the signature swirl that tops these pies They're a cheap snack, make sure to warm it up to enjoy it the most.
Ensalada Murciana
A salad using all the local ingredients that is fresh and light. It is available at
basically
every bar you walk into in Murcia
. Fresh tomatoes, onions, tuna, olives, boiled eggs with a bit of olive oil. It's a great light meal with some
really
nice complimenting flavors.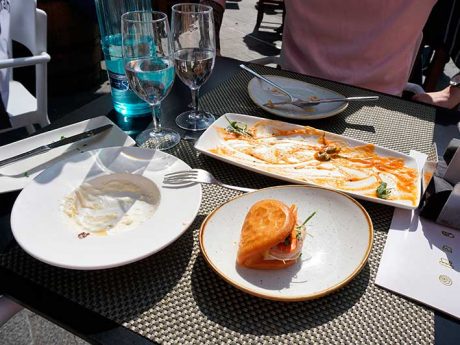 Migas
I first heard about Migas
through the children at the school
where I work.
They said
Migas
was a favorite of theirs and when I asked what it was their reply was
"You eat it when it rains."
I think
it goes without saying I was more confused than before I asked the question. On the following rainy day, much to my surprise, there were signs out of most cafeterias and bars with Migas on them. 
Although there is a variety of ways in which they serve them, my first taste was in a
pueblo
outside of city center. It had full garlic cloves and small pieces of sausage mixed in with a soft and chewy base. To make it you use dry bread mixed with water and olive oil and it creates this special
Migas
mixture. It's the perfect comfort food for a rainy Spanish day.
Arroz Caldero
This dish
literally
translates to cauldron rice.
It was first introduced in many seaside towns as a
way to use smaller fish caught that weren't good enough to sell on their own
. You can find this dish as the main course on many
menus del dia
throughout Murcia and packed with flavor.
Paparajote
Another Murcian treat that had me confused when I first spotted locals nibbling on sugar-coated leaves is paparajote. Lemon-tree leaves battered in eggs, flour, and a cinnamon sugar coating. Very typical of Murcia and mostly eaten during the Spring Festival. Don't be mistaken like I was and take a full bite of the sweet treat. You actually remove the leaf first and only enjoy the crunchy outside.
All About the Sweets and The Produce
The Desserts
Confiteria or Pasterlerias are shops that sell all different kinds of sweet treats in Spain. They make desserts on a daily basis. A personal favorite is a soft pretzel covered in a honey glaze with roasted hazelnuts sprinkled on the top. I have to seriously refrain from getting carried away and getting one every time I spot it through the glass when stopping for an afternoon coffee.
Fresh Produce
The fresh produce that is available in Murcia is some of the best I've ever had. Especially if you choose your fruits and vegetables within the season. The climate in Murcia is perfect for growing produce, and the region is often referred to as 'Europe's vegetable gardens'. During the winter months, artichokes are available in abundance. Murcians have adapted many traditional tapas to include artichokes. I've tried them a la plancha (grilled), chopped and covered with jamón serrano, and alcachofas de la Abuela. These last ones, fried and cooked in a dreamy beef broth and covered in pine nuts.
Any of the fresh produce a la plancha is a favorite of mine because it is just so fresh and juicy.
Driving through el campo in Murcia you get to see many different types of plants. Hundreds of lemon and orange trees, artichokes; and in very early spring the peach trees are in full bloom. Preparing to grow the most amazing, juiciest peaches I have ever had the pleasure of getting my hands sticky with.
If you enjoyed this post, don't miss out the following article:
– 10 Spanish Plates You Should Try in Madrid
If you want to become an Auxiliar de Conversación, apply now!