By Andrew H., Auxiliar de Conversación 2019/2020-2020/2021 in Murcia.
It was just a casual day teaching at school. The kids were full of energy as always. The corridors of my primary school were awash with drawings, sketches, and illustrations. These drawings represented each different holiday and season of the year until now. Christmas, Halloween and so many more.
Some were based on drawings that I handed out to the little ones during winter. They represented Christmas with characters such as Rudolph the red-nosed reindeer, Santa Claus, a Christmas tree, a cottage. There was also the footballer Lionel Messi with a white beard like Papa Noel (Father Christmas). Sonic the Hedgehog standing beside a bunch of wrapped presents adorned the imagery. It was now early March in a time that had passed in the blink of an eye.
Last Memories before the School was Closed
Christmas with its regal qualities, extravagant royal reds, bombastic colour swirling emotions, and joyous gifts still lay dominant in my student's minds. There was still so much to experience. To the right of these drawings, directly opposite our teacher's staff rooms, I could still, in memory, hear the students singing. Every lunch break for months they would sing "All I want for Christmas is you."
This was a group of students practicing fervently, the best singers, working hard for what would be the Christmas musical. Which in front of a large crowd including their parents would be a brave and ecstatic performance month in the making. The sound of their singing never truly left that corridor, always clear, crystal as water in my mind.
When the day finally came, my coordinator told me, as there were no classes on the day of the performances, I didn't need to come into school. I wasn't going to miss this performance for the world. One of my best, and favourite students Martina was front and centre. Full of her tomboyish giddiness, singing, and dancing with superb English. Many of the students wore tiny reindeer antlers and all others wore red. There were songs, dances in unison, and huge choreographed musical numbers. During one of the performances, one of my youngest students ran over to me and gave me a big hug. It was one of the best feelings ever. There was no reason to not attend that day of school as I would have missed out on all the joy and wonderful performances that I had been waiting all year to be a part of.
I remember it so clearly. Just two months later leaving the front door of the school after talking to a fellow teacher. I never could have imagined for the school to shut down and not be able to return. Just after a girl ran to me in the schoolyard and asked if I could make a drawing for her.
Cartagena City and Lock Down
The School Closed its Doors in Mid-March
Not long after returning to our second-floor apartment (I used to live with some flatmates), in Calle Carmen central Cartagena I got a message from our teacher. Up until now, I and all the students had been fervently washing our hands with disinfectant as word of the virus spread. But the message on my phone stated we would have to stay at home from school for a few days.
Over the next few days, I would receive another message extending it to a week. Later a week would become two and furthermore eventually. As we lived in Cartagena at the time, every one of our friends were from Canada, Philadelphia, California, and Tucson in the United States and Essex and Birmingham in the United Kingdom. We lived across the central areas of the southern Spanish city of Cartagena. On the first day when schools were closing, we still were able to travel to each other's houses and meet up. We would dance to music play card games like UNO and have fun. All of us were just hoping the situation wouldn't get worse or escalate.
Confinement in Spain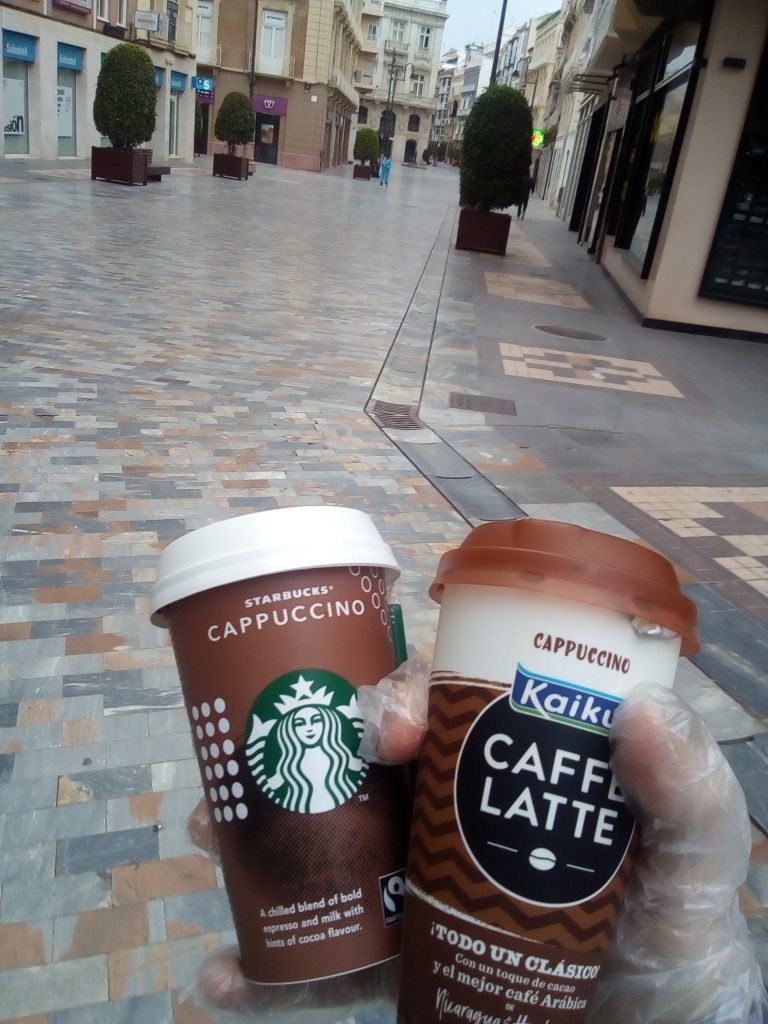 Sadly, this wasn't to be the case. As news of the extremes of the virus worldwide progressed a lockdown was initiated for the entire Region of Murcia. One of the least infected regions of Spain both due to its distance from central Spain, separated by deserts and the extreme heat that the south has to offer, buffering from some of the common effects of flu-like viruses.
My parents were finally visiting me during this time, from Ireland. But with news of the country going into lockdown we were only able to spend a short time together. They had to leave pretty swiftly as did many auxiliares due to the uncertainty of the whole situation.
I recall being concerned specifically about my teaching, as doing classes online was going to be a clear necessity. However, I recall how faulty my laptop's in-built camera was at this stage. As classes started, I found if my camera ever stopped functioning, I would simply log out and back in again to make it continue functioning during any stoppages.
Lockdown in Spain was a surreal experience. I had waited for years while attending university in the past, for the day where I could move to Spain. Teach, learn the language meet new friends, and bask in the heat and sunlight of the Spanish southern European climate. Lockdown presented a peculiarity where in the South, we live confined to our apartments, isolated, rarely able to leave while the sunlight shone on endlessly outside. I was missing out while locked inside and on top of all of that. I was like everyone else, prevented from completing my first year of teaching in Spain in person due to such an unpredictable set of worldwide circumstances.
Lifestyle during COVID-19 Lockdown
I recall how much technology has inexorably changed our lives. I would spend days in the salon, the main area of our apartment working on the laptop, writing presentations, constantly checking the advancing rate of the virus worldwide and specifically in Murcia. It was always a relief to see Murcia as one of the least affected regions. At this stage, my roommates had left to return to their home countries. Due to the unpredictable nature of the situation, leaving me alone in the apartment.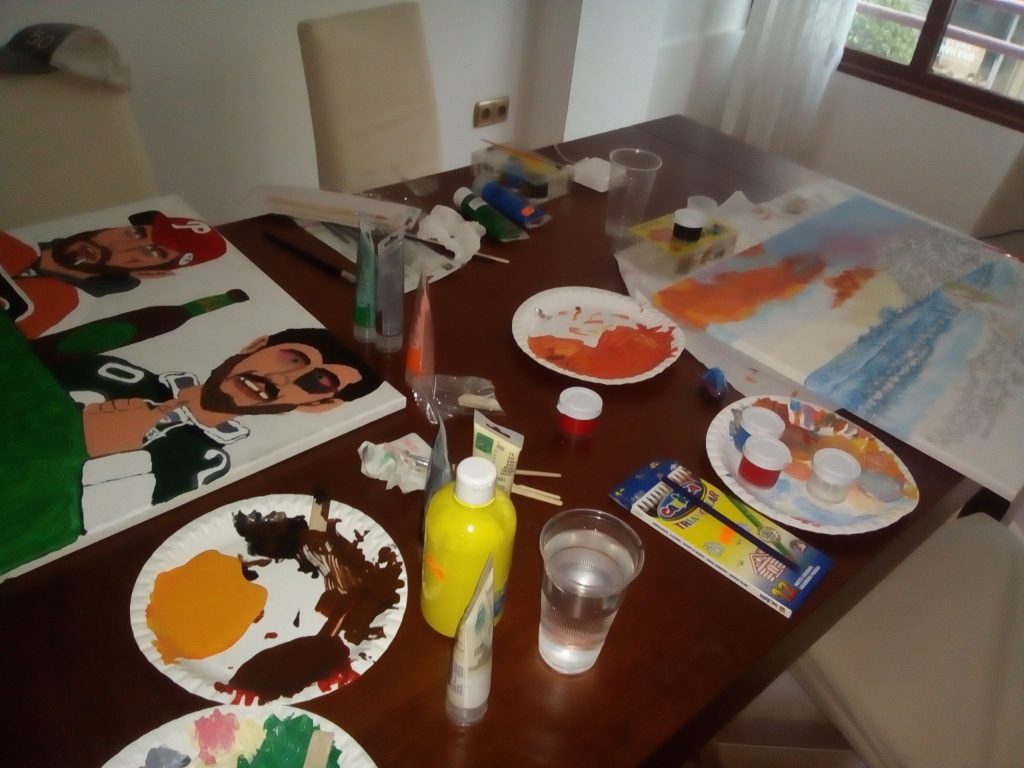 However, I had no intention of leaving due to the years I spent desiring to move to Spain. I would practice a lot of drawing this time. For the kid's presentations were tailored to Biology at times and classes online would take place at the main desk in our apartment's salon. Since I was fortunate to live in a large apartment in central Cartagena city there was a long corridor to run through and get exercise. The huge windows of the salon stretched upward and gave a great view of the main walking street showing the sumptuous architecture and balconies that Cartagena has to offer. I made a lot of drawings during this time. It took a large amount of time for each drawing as they were architecture-based illustrations and I was drawing without a ruler or straight-line tools, but time is what many people who practice art need, and its what we now had.
Alone in the apartment, I never once felt lonely. It's strange. Perhaps because I was finally in Spain, I was so deeply appreciative for the country I was in and how so many people in the world live lives that are so much harder, I just never felt the need to complain.
What I Have Learned from COVID's Experience in Spain?
Computer technology and the internet made such a difference. Listening to Youtube, these people, these 'friends' online were perfect constant escapism from the timeline of lockdown we were currently in. I would draw, go to the local Carrefour Express, buy some cafe latte's in plastic cups. Then return to the apartment and draw while listening to the lives of these people on Youtube to keep me company, these virtual people far far away. This was the greatest test for many auxiliares living alone, in a foreign country. Illegal to so much as leaving your home, isolated from human contact. It takes a lot of courage to live through a psychologically alone situation such as this.
But for me, it was totally different. I had lived such a difficult life in Ireland and for so many years, that lockdown and isolation for me in Spain was a walk in the park. I had been through real difficulties for so long that this was just an unusual set of circumstances. An important point to remember from all of these experiences is just how comforting internet personalities have become as 'friends'. They can allow you to escape many difficult situations.