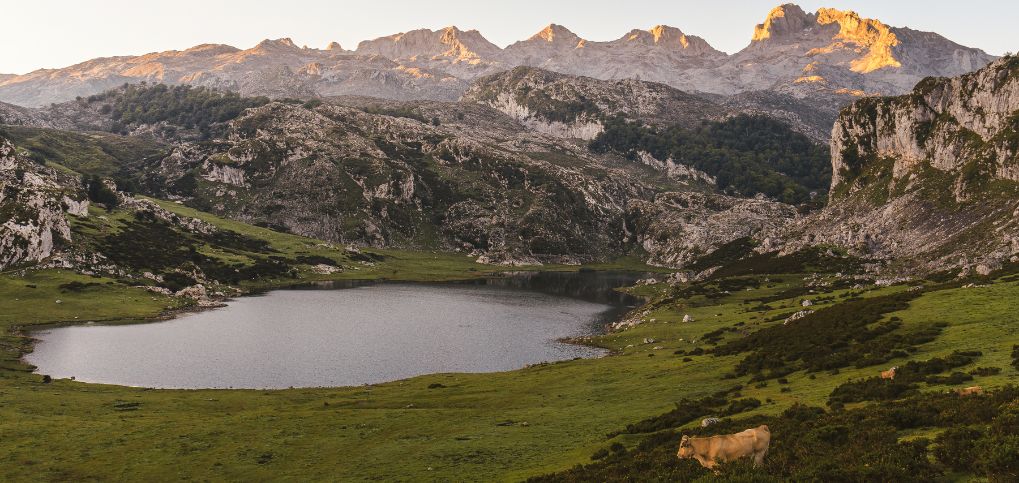 By ConversaSpain
¡Hola, exploradores! Spain is a land of wonders, and beyond the famous landmarks lie hidden gems that will leave you speechless. Get ready for an adventure like no other as we take you on a journey through Spain's must-visit places. From charming pueblos con encanto and nature escapes to breathtaking coastal heavens, this guide will make you fall in love with Spain! So grab your map and let's dive into the magic of España!
Pueblos con Encanto – Most Common Hidden Gems in Spain
Where time stands still, and history comes to life. These villages scattered throughout Spain offer a glimpse into the country's rich cultural heritage. Wander through cobbled streets, admire ancient architecture, and experience the warm embrace of traditional Spanish hospitality.
1. Ronda – A Bridge to the Past
Ronda is a captivating pueblo perched atop breathtaking cliffs in Málaga (Andalucía). Its crown jewel, the Puente Nuevo, spans a deep gorge, offering a view that will leave you in awe. You can explore landmarks such as the Mondragón Palace and the ancient Arab baths, which stand as a testament to Ronda's past.
Photo by Dhara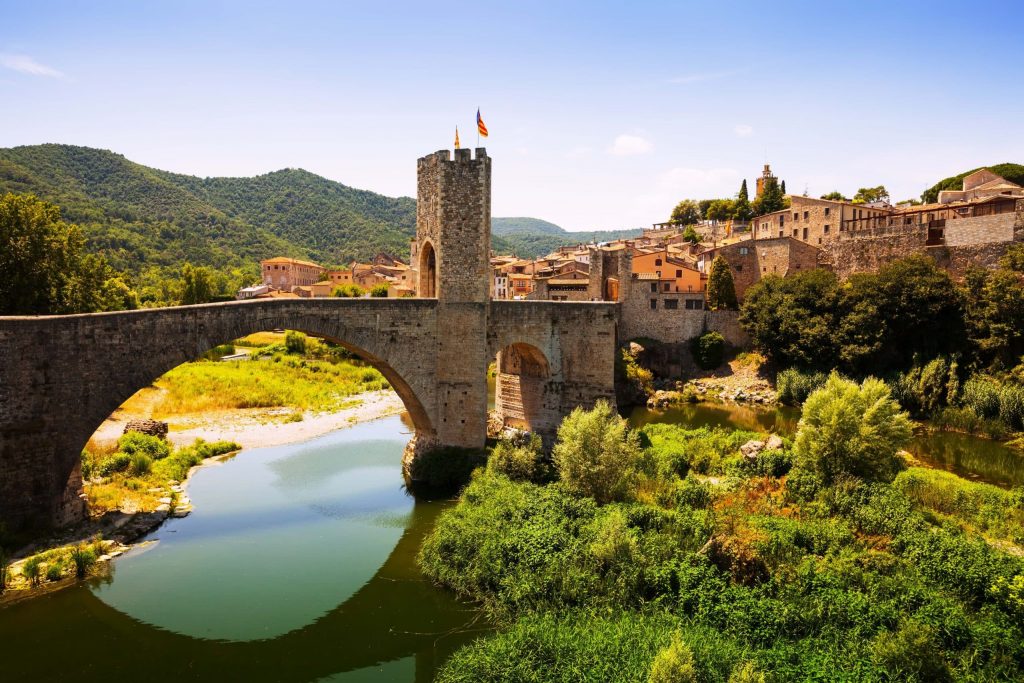 2. Besalú – A Medieval Wonderland
Besalú transports visitors to a bygone era in Girona (Cataluña). The iconic 12th-century Romanesque bridge leads to a charming old town, where well-preserved buildings and arches whisper tales of the past. Wander through the Jewish Quarter, the majestic Besalú Castle, or the Garrotxa Volcanic Zone Natural Park.
Photo by Iakov Filimonov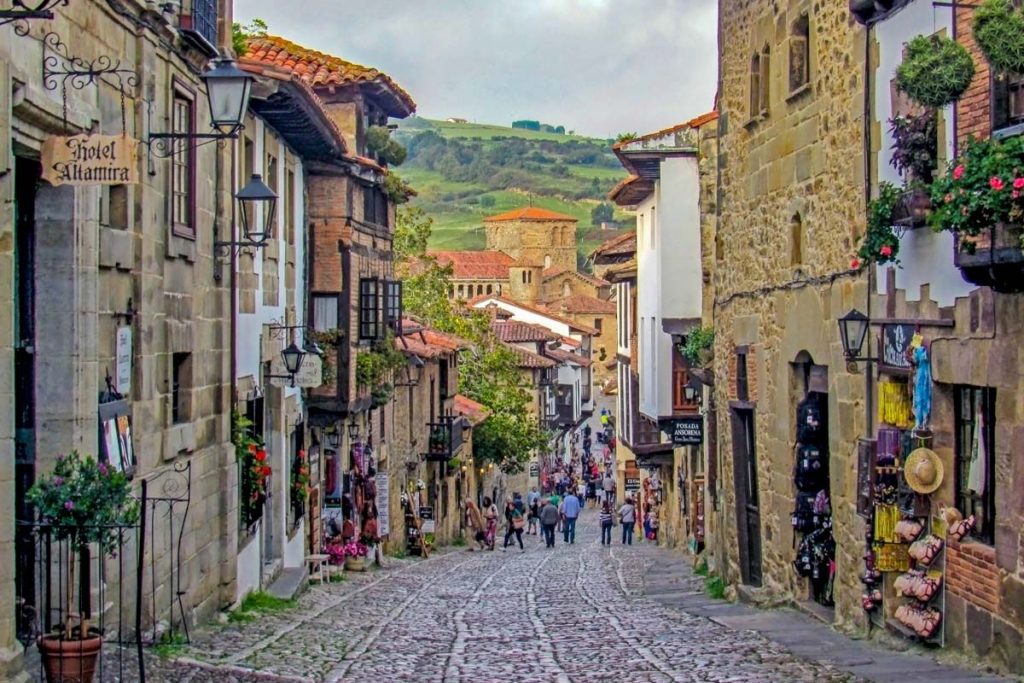 3. Santillana del Mar – The City of The 3 Lies
Prepare to be enchanted by Santillana del Mar, a historical pueblo frozen in time in Cantabria. Its noble houses and picturesque squares will transport you to another era. It is commonly known as the city of the three lies as it is not "Santa" (saint), or "Llana" (plain) and does not have a "Mar" (sea).
Photo by Surfing the Planet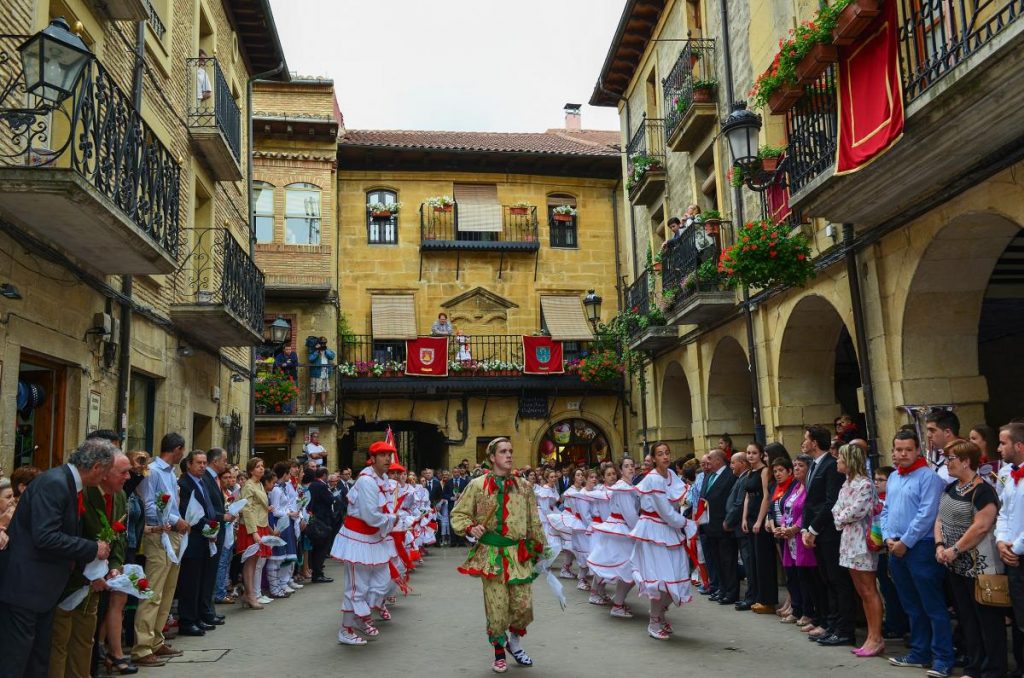 4. Laguardia – Vineyards and History
Nestled among the famous Rioja Alavesa vineyards in the Basque Country, Laguardia is a hidden gem steeped in medieval charm. Don't miss the opportunity to taste exquisite wines from renowned wineries like Bodegas Campillo or Ysios.
Photo by Los Pueblos Más Bonitos de España
5. Úbeda and Baeza – Twin Treasures
These twin treasures in Jaén (Andalucía) earned prestigious UNESCO World Heritage status. Walk through the elegant streets and squares of Úbeda, where Renaissance palaces and churches stand proudly, or visit the majestic Cathedral in Baeza. Prepare to be transported back in time.
Photo by Civitatis
6. Elizondo – The Beauty of the North
Elizondo is a charming pueblo in Navarra that embraces the essence of Basque culture and traditions. Surrounded by the Pyrenees, this village offers a serene retreat for travelers seeking tranquility. Don't miss the opportunity to explore the nearby Baztan Valley or the witchcraft museum and caves in Zugarramurdi.
Photo by Turismo Navarra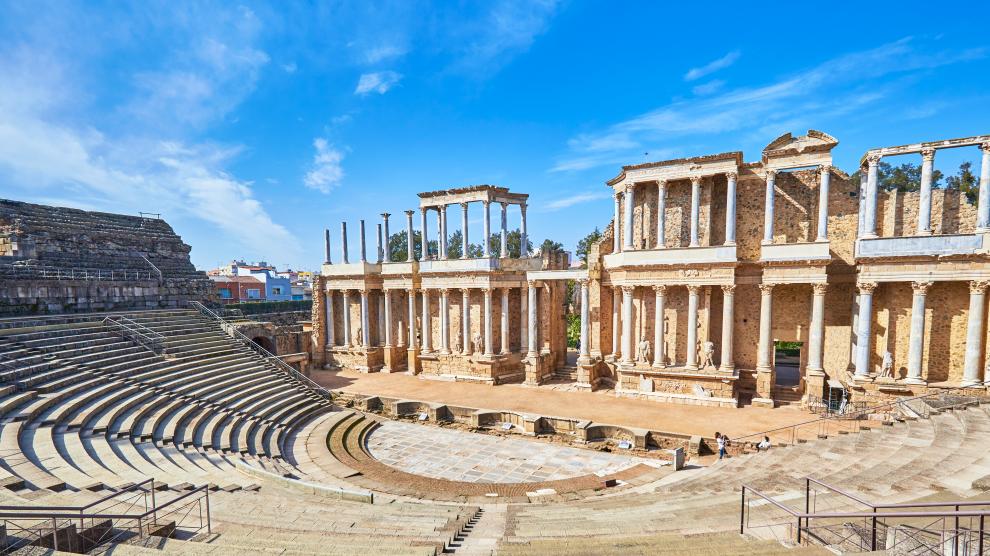 7. Mérida – Roman Marvels
Ancient Roman wonders await at every turn in Mérida (Extremadura). As a UNESCO World Heritage Site, Mérida proudly showcases its rich history through an impressive collection of Roman ruins: the Amphitheatre, the Temple of Diana, and the Roman Theatre.
Photo by Getty Images
Hidden Gems in Spain: Nature Escapes for Adventurers
Step into nature's embrace as we venture into Spain's breathtaking wilderness. Whether you're seeking thrilling hikes, tranquil landscapes, or a chance to connect with the great outdoors, these pristine natural wonders will fill your soul.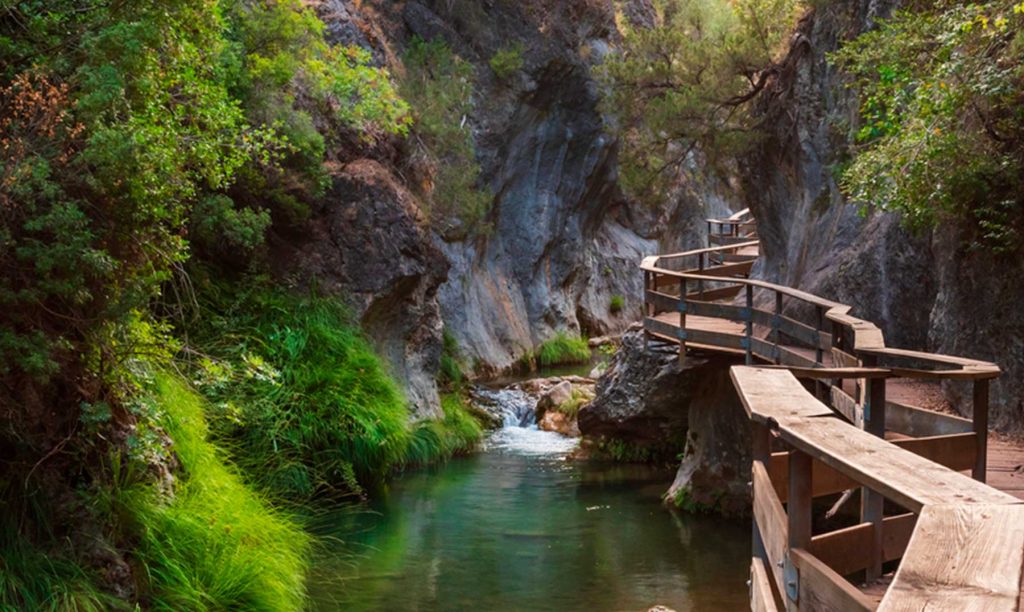 8. Cazorla – Nature's Oasis
Immerse yourself in the beauty of the Sierras de Cazorla, Segura, and Las Villas, in Jaén (Andalucía). Here, majestic mountains, forests, and rivers create a retreat for hikers and wildlife lovers. Discover the Cazorla Castle, be enchanted by the crystal-clear waters of the Cerezuelo River, hike, cycle, or relax in the tranquility of this sanctuary.
Photo by El Viajero Feliz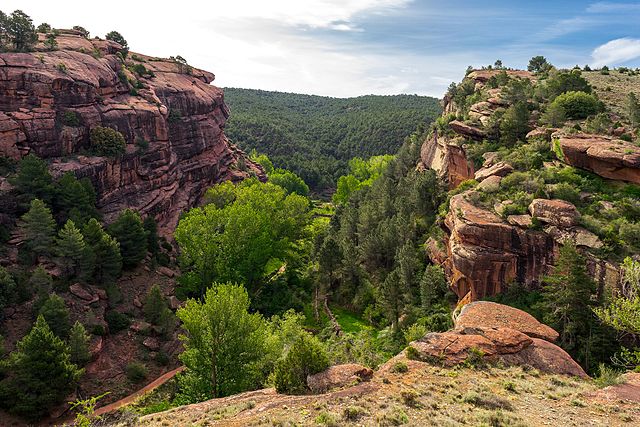 9. Albarracín – Enigmatic Beauty
Beyond its medieval charm, Albarracín is embraced by the nature of the Sierra de Albarracín Natural Park (Teruel, Aragón). This is a playground for outdoor enthusiasts, offering a symphony of colors and landscapes. For rock climbers, Albarracín boasts world-class bouldering sites that attract climbers from around the globe.
Photo by Sensación Rural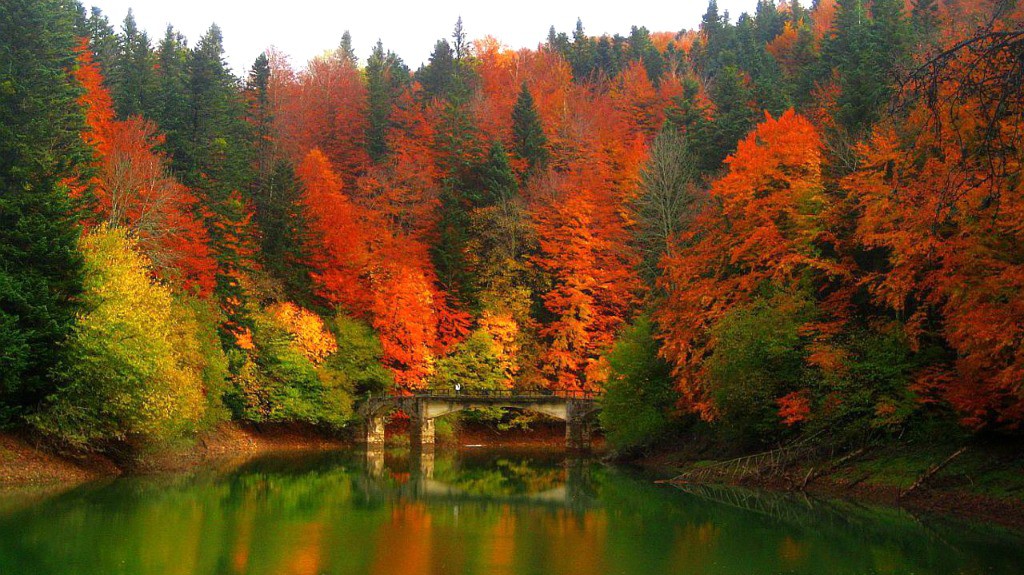 10. Selva de Irati – The Green Jewel
An enchanting forested wonderland in the Pyrenees mountains of Navarra. This sprawling forest is Europe's second-largest best preserved mixed beech-fir tree reserve. In autumn, the forest transforms into a tapestry of fiery colors, painting the landscape in hues of red, gold, and orange.
Photo by Aesfas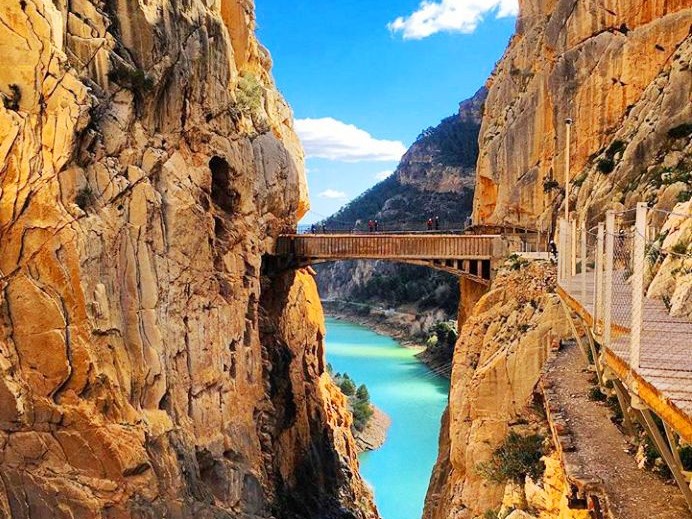 11. Caminito del Rey – Dare to Walk the Path
Prepare for an adrenaline-fueled adventure on Caminito del Rey, the King's Pathway, in the heart of Málaga (Andalucía). Carved into the sheer walls of the Gaitanes Gorge, this narrow cliffside trail promises jaw-dropping views and heart-pounding excitement.
Photo by Turismo Andalucía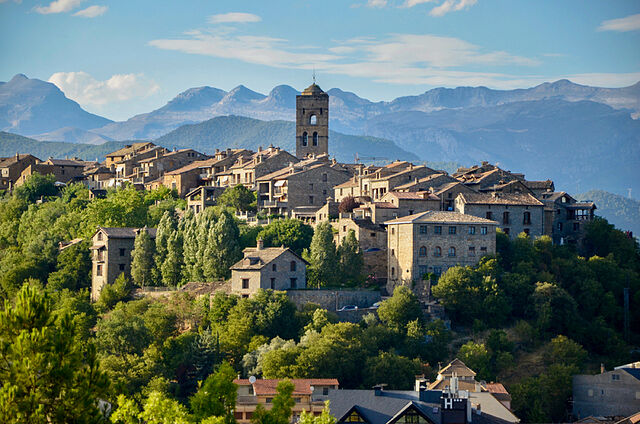 12. Aínsa – Pyrenean Perfection
Aínsa is a picturesque medieval town in the heart of the Pyrenees in Huesca (Aragón). Surrounded by stunning natural beauty, Aínsa is an ideal base for outdoor adventures in the nearby Ordesa y Monte Perdido and Sierra de Guara Natural Parks. Aínsa offers an escape into the charm of medieval Spain amidst the breathtaking Pyrenean landscape.
Photo by El Mundo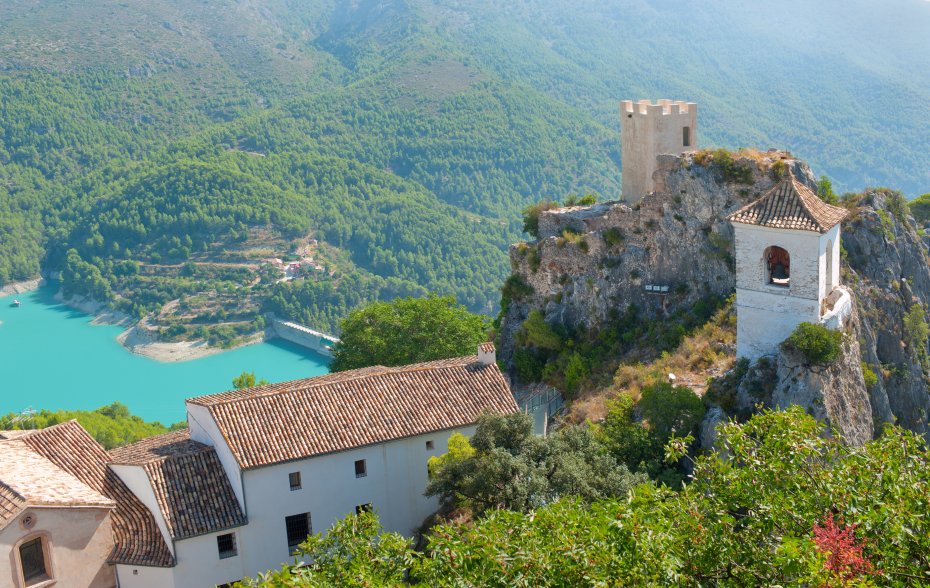 13. Guadalest – Castle on a Cliff
Guadalest is the perfect blend of historical charm and awe-inspiring natural beauty in Alicante (Comunidad Valenciana). Perched on a cliff, it provides views of the surrounding Sierra de Aitana mountains and the tranquil Guadalest Reservoir. Explore scenic hikes to waterfalls and forests, immersing yourself in this nature lover's paradise.
Photo by Elena Fedulova | Dreamstime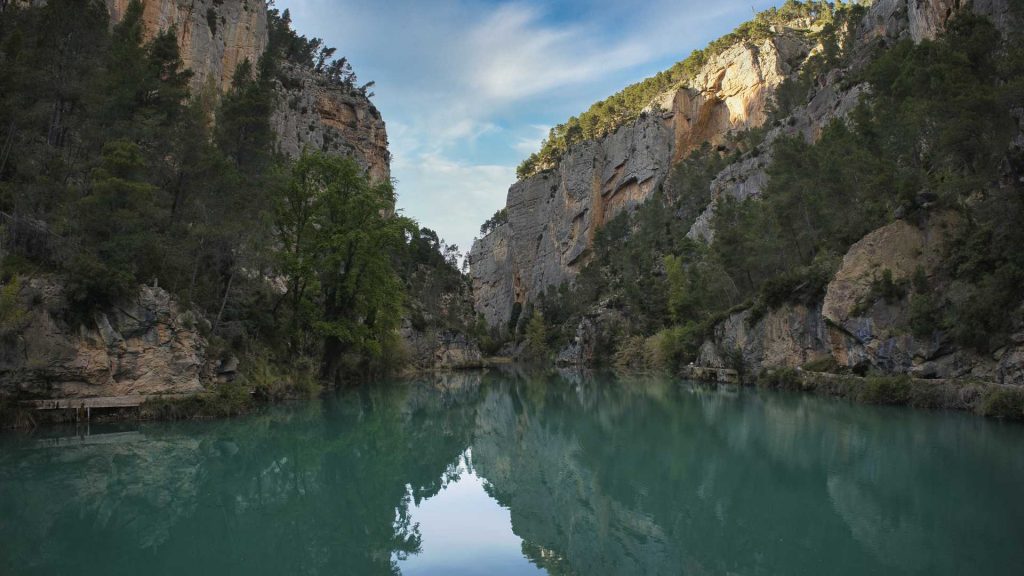 14. Montanejos – Hot Springs and Scenic Serenity
Its main attraction is the Fuente de los Baños, a series of hot springs that offer soothing relaxation and views of the surrounding rocky landscape. These thermal waters, believed to have healing properties, make Montanejos a popular wellness retreat throughout the year. You can also explore the Montanejos River and its turquoise pools (Castellón, Comunidad Valenciana).
Photo by Turismo Comunitat Valenciana
Coastal Delights in Spain
Let's set sail to Spain's stunning coastal cities. Discover a world of sandy shores, azure waters, and charming fishing towns that exude the essence of coastal living. These delights promise an idyllic escape and memories under the sun and by the sea.
15. Cadaqués – Artist's Dream
Cadaqués is a captivating coastal village on the Costa Brava in Girona (Cataluña). Its white-washed buildings, set against a backdrop of azure waters and cliffs, have inspired artists like Salvador Dalí and Pablo Picasso. Wander through its streets, dine on fresh seafood, and explore the beauty of Cap de Creus Natural Park.
Photo by EspanaViajar
16. Sóller – Citrus Paradise
Sóller is a town in the heart of Mallorca's Tramuntana mountains. Surrounded by citrus orchards, it boasts a scenic train. It connects with the coastal Port de Sóller, with turquoise waters and sandy beaches. The vintage wooden tram offers stunning views of the Mediterranean.
Photo by TrenDeSoller
17. Zumaia – Geological Marvel
Zumaia is a coastal paradise with a geological story to tell. Its unique Flysch cliffs, a UNESCO Geopark, offer a glimpse into millions of years of Earth's history -exposed in colorful layers. Walk along the striking rock formations, discover hidden coves, and marvel at the interplay of land and sea in Guipúzcoa (País Vasco).
Photo by iStock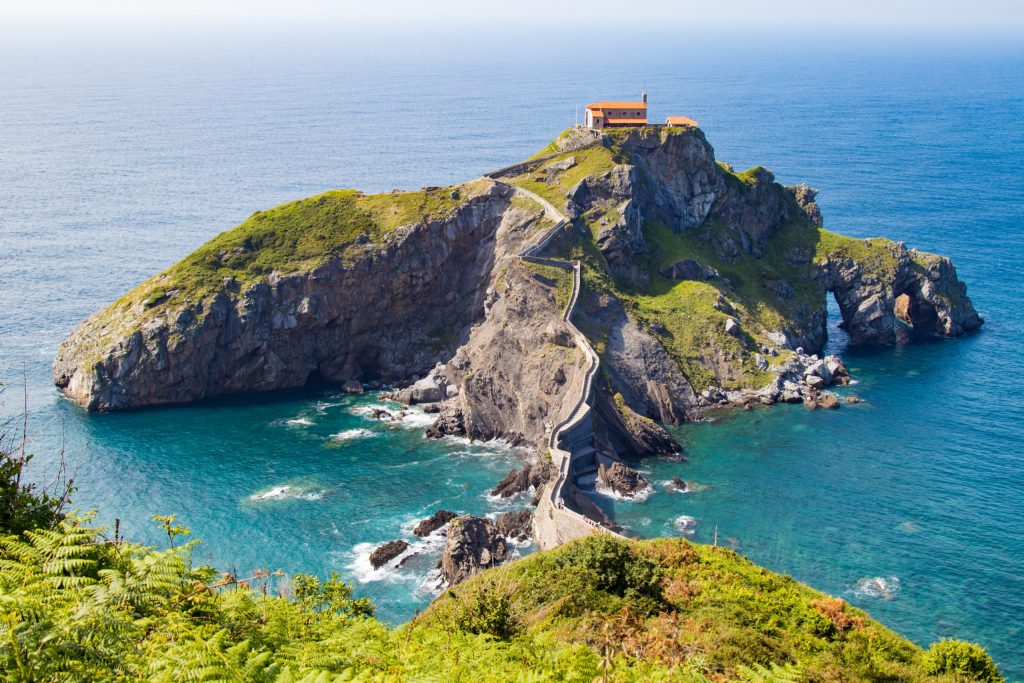 18. San Juan de Gaztelugatxe – Dragonstone Fantasy
Also in the Basque Country (Vizcaya), this is a must-visit for "Game of Thrones" fans. Accessible via a stone bridge and 241 steps, the pilgrimage to the hermitage offers views of the crashing waves and dramatic cliffs. This location gained global recognition as Dragonstone in "Game of Thrones." As you reach the summit, ring the bell three times for good luck.
Photo by Carballo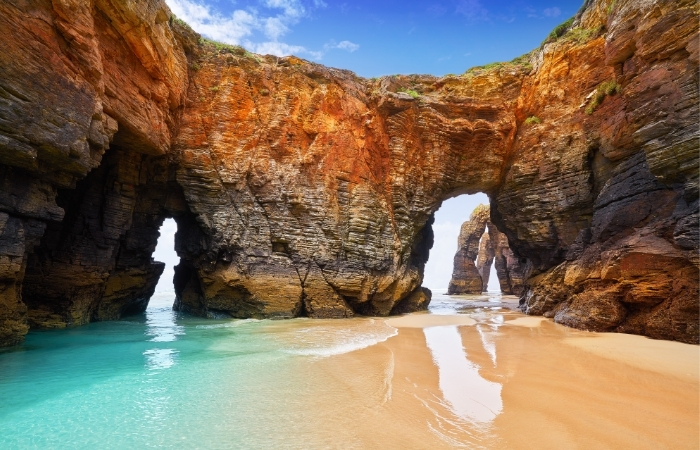 19. Playa de las Catedrales – Nature's Cathedrals
The name comes from the towering arches and vaulted formations that remind us of the architecture of Gothic cathedrals. Over time, the sea and wind have sculpted these rock formations, creating a unique coastal landscape that continues to evolve in Lugo (Galicia). During low tide, visitors can stroll through these natural wonders.
Photo by Tono Balaguer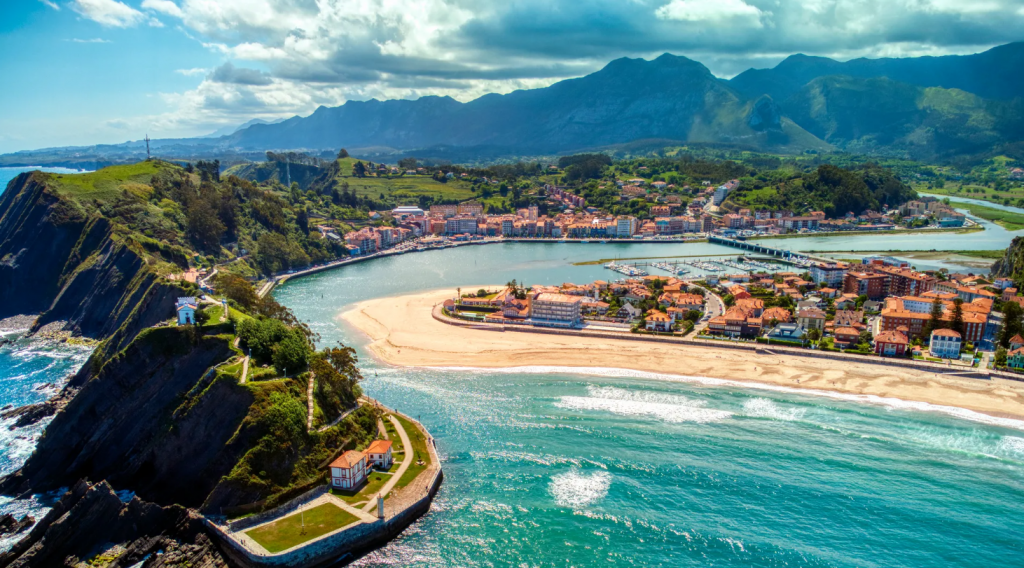 20. Ribadesella – Coastal Serenity
It is set at the mouth of the Sella River, framed by green hills and cliffs in Asturias. Ribadesella's sandy beaches invite visitors to sunbathe and practice water sports. The nearby Tito Bustillo Cave, a UNESCO World Heritage site, showcases prehistoric cave paintings, adding a touch of ancient charm to this coastal gem.
Photo by StockPhotoAstur
¿Listo para la aventura?
These hidden gems in Spain await our discovery. From enchanting pueblos and nature escapes to breathtaking coastal retreats, these lesser-known treasures are ready to steal your heart. So, pack your sense of wonder, set your compass for España, and let the magic unfold as you explore these extraordinary places. Adventure and fun are guaranteed!