By Paul K., Auxiliar de Conversación in Madrid 21/22
Finding Vegan Options
One of the most difficult things about being vegan is finding vegan options in a place you have never been before. So of course I was concerned about how my diet would be affected when moving to a foreign country. Luckily for us plant-based language assistants, though, I have discovered that there are lots of vegan food options in Madrid, and I have yet to be disappointed by any of them!
If you're vegan, don't worry. You will surely find many places that have products that are free from animal cruelty. Now that I have lived in Madrid for a little while, I can be confident in saying that these are some of the best vegan restaurants and stores in the city!
OnlyVegan, a vegan store in Chueca
As far as grocery shopping goes, it doesn't get much better than OnlyVegan! This store is located in Plaza de Chueca (directly outside the Chueca metro stop), and it has everything you'll need to stock up your fridge and cabinets. It has cereals, chocolates, vegan meats, chips, desserts, candy, makeup, hygiene products, and so much more! As a candy lover, my personal favorites here are the sour gummies and chocolate-covered marshmallows.
I have had great experiences at OnlyVegan. On more than one occasion, the cashier gave me a free cookie, and another time I even got a free wooden bowl to go with the chips I got!
Mad Mad Vegan, burger options in the center of Madrid
Mad Mad Vegan is perhaps the most well-known vegan restaurant in the city center, so it is important to book a reservation ahead of time. There are two different Mad Mad Vegan restaurants in Madrid—one in Chueca and one in Lavapiés.
The menu for Mad Mad Vegan has a lot of burger options—which is the highlight of this restaurant for me—but there are various other options you can choose from as well.
If you love heavy burgers, I definitely recommend the Dirty Philly burger, which also happens to be gluten-free. And for dessert, I would suggest either the Cookies & Cream or the American Brownie… or maybe get both and take one home with you! Just note that if you take the American Brownie to go, you might not be able to get the vegan ice cream that comes with it.
And for those of you that are not confident with your Spanish-speaking skills, don't worry! Mad Mad Vegan has an English menu, and I have found that the staff is always happy to communicate in English.
My favorite part of this restaurant, though, is that you can buy a Mad Mad Vegan shirt, which I always wear with pride!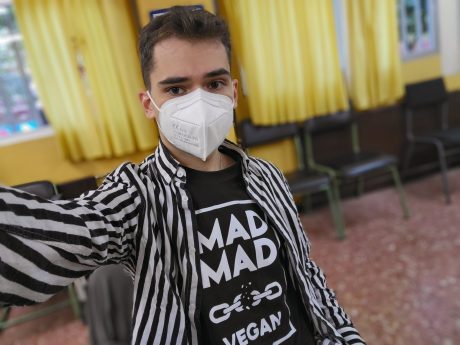 Lidl, a supermarket with vegan products
If you don't already know, Lidl is a popular supermarket in Spain, and they can be found all over Madrid. It definitely isn't a vegan store, but it has quite a few vegan options that most other grocery stores don't offer, including vegan meats and cheeses.
THUNDER, vegan fast food
THUNDER in Malasaña is a gem for vegans who crave greasy, American-style fast food. This retro-themed burger joint isn't exactly the healthiest restaurant, but it is certainly a guilty pleasure!
The menu at THUNDER includes crispy vegan chicken, delicious vegan beef, and savory french fries. Oh, and did I mention that they have vegan bacon, too?
Artemisa, vegan and gluten-free restaurant
Artemisa is a pair of vegetarian restaurants located in Huertas and Gran Vía, but they have plenty of vegan (and gluten-free) options on the menu. This restaurant is a bit on the fancy side, but it's not a place where you'll feel obligated to dress super formal.
If you are looking for a tasty vegan pizza, Artemisa is the place to go!
Vega, a nice atmosphere
From my experience, it seems like Vega is a pretty popular restaurant, even for those who aren't vegan. It's located on Calle de la Luna, and it's a cute little place with a nice atmosphere.
The menu at Vega is pretty unique, including options such as ceviche, croquettes, and korma curry. The highlight for me, though, was the chocolate and hazelnut mousse, which contains mango and crunchy almonds. Delicious!
B13 Bar, Millenial vibe
I have taken multiple non-vegans to the B13 Bar on Calle de la Ballesta (near Gran Vía), and it seems to be a hit! This restaurant has a cool Millennial vibe, and it has some pretty excellent food to match. And this is yet another place that is a great option for both dinner and dessert!
Compasión, vegan meat in Madrid
This one is pretty straightforward. Compasión on Calle del Espíritu Santo is a vegan meat store, but they have some other things, too. So if you're ever looking for some animal-free protein, this is a great option to consider!
Viva Burger, breakfasts in La Latina
I cannot get enough of Viva Burger, which is located near the La Latina exit on metro line 5. Seriously, this place is exceptional.
Despite its name, Viva Burger has a lot more than just burgers on its menu. My very first time at Viva Burger, I got what I would consider to be one of the best breakfasts I have ever had. I got the Revoltosa, which is made of toast, scrambled tofu, mushrooms, and vegan cheese.
I also got a banana and coconut smoothie to go with it. It was absolutely delicious. And the best part is that the food was only €6 (and it comes with a coffee or tea, which I chose not to get). The smoothie itself was only €4.50.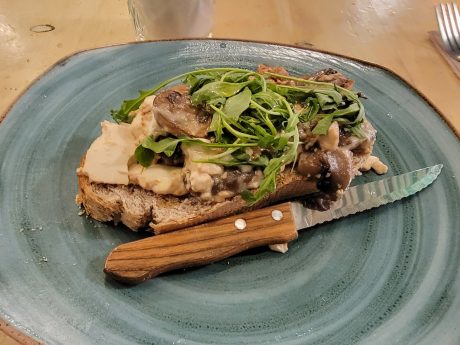 Enjoy Vegan places in Madrid!